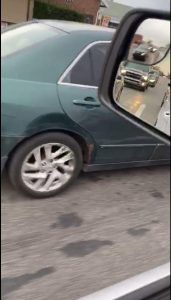 DEARBORN — Police arrested a suspect Oct. 20 in connection with a report of shots fired in the area of Warren and Chase roads Oct. 18.
Luis Berrios-Rosario, 38, was arraigned in 19th District Court Oct. 20 before Judge Sam Salamey on felony charges including assault with intent to murder, assault with intent to do great bodily harm, discharging a weapon from a motor vehicle, felonious assault, and four counts of felony firearm. A $100,000 cash bond was issued.
A probable cause conference was scheduled for 9 a.m. Oct. 30.
Police responded to the area of Warren and Chase about 5:40 p.m. Oct. 18 on a report of shots fired from a vehicle. The victim did not suffer injuries.
The suspect vehicle was described as an early 2000s green Honda Accord four-door sedan with a blue-gray passenger side door. It was last seen fleeing north on Greenfield from Warren.
The incident was captured on cell phone video.
"As a result of our excellent partnership with local media outlets and with the cooperation of concerned citizens, a swift arrest was made and our communities are safer," Police Chief Ronald Haddad said. "Reckless acts such as this endanger innocent lives and will not be tolerated."
Anyone with information related to the incident is asked to contact the Police Department at 313-943-2241. To remain anonymous call Crime Stoppers at 800-SPEAK-UP.