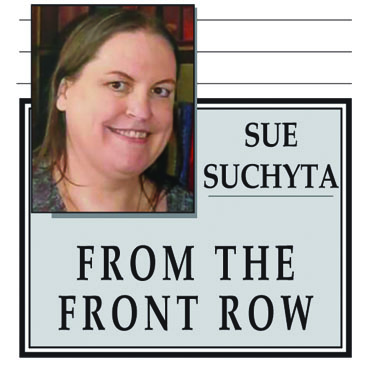 Audiences will have a second chance to enjoy the Players Guild of Dearborn's 2019 production of the musical "A Gentleman's Guide to Love and Murder" beginning Nov. 13, when it will begin to live-stream through Showtix4u.com.
The Tony Award-winning musical, which was performed live at PGD Nov. 8 through Dec. 1, 2019, follows Monty Navarro, eighth in line to an earldom, who decides to improve his odds of succession by hastening the demise of his predecessors. Along the way, he attempts to juggle two women – his mistress and his fiancée – and avoid being implicated for murder.
Directed by Michael Moseley of Allen Park, with musical direction by Steve Wozniak of Royal Oak, the cast includes Dearborn residents Graham Dallas as Montague "Monty" Navarro and Brian Townsend as the D'Ysquith family.
Jamee Perryman of St Clair Shores plays Sibella Hallward, with Madeleine Bien of Southfield as Phoebe D'Ysquith and Patricia Martin of Farmington Hills as Miss Shingle.
Amy Jones of Dearborn plays Woman No. 1, with Carissa Lokken of Livonia as Woman No. 2, Alisa Pullum of Redford Township as Woman No. 3, Sebastian Adams of Dearborn Heights as Man No. 1, Mark Wagner of Ann Arbor as Man No. 2 and Jacob Dray of Dearborn as Man No. 3.
Moseley said "Gentleman's Guide" provides plenty of laughter.
"In a show that is about a guy who kills off half of his family in order to gain office, that's a comedy," he said. "What we've tried to do is provide an entertaining step away from reality and everyday life in an evening of theater."
Perryman agreed, and said the show provides a night of theater that will leave audiences laughing until they cry.
"You will fall in love with these amazing characters," she said. "From the D'Ysquith family to the immensely talented ensemble, you will not want to miss this."
Bien said the show is definitely something to watch if you are in need of laughter.
"If you need a little something to escape from the day-to-day drudgery, this show is for you," she said.
Dray said viewers may see a reflection of their own personality among the show's characters.
"You will be able to find a piece of yourself in the show, whether it's humor, jealousy, devotion or curiosity," he said. "These traits play a big role, and give you a moment to reflect on your own actions to achieve your dreams."
Martin said the talented cast and production team are also a reason to see the show.
"The cast is good at acting, singing and movement," she said. "The directors are knowledgeable and experienced, and the tech is trend-setting."
Moseley said the Players Guild of Dearborn was the first community theater to be granted the rights to perform the show in 2019, so his vision was to give a nod to the original Broadway show.
"The style of it, and the look and the silliness of it was something that fit us so wonderfully," he said. "We take those fun elements and translate them to our stage, preserving the tongue-in-cheek, wink-wink quality that is written into the script."
Moseley said he doesn't have a favorite moment or scene in the show.
"There are moments when I laugh harder, and there are moments that are very heartfelt," he said. "One of the great things about the Guild is the intimacy of our theater allows our actors to go a little deeper, and give their characters more breadth."
Tickets are $10 for an individual, $20 for a household and $50 for a group. For more information, go to playersguildofdearborn.org.