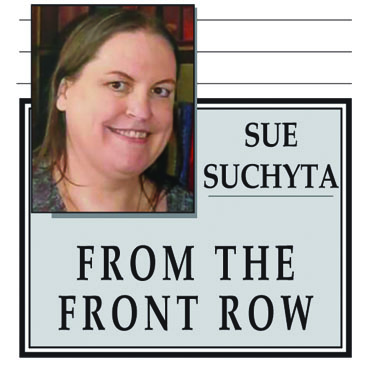 Group will not renew its performance space lease
As the pandemic continues to challenge the performing arts community, the Ringwald Theatre creative team has announced it will not be renewing the lease at its performance space, 22742 Woodward, in Ferndale, at the end of November.
However, it will offer a project, which was filmed in its current space, prior to the team packing up, for online viewing: a full-length parody, "Have Yourself a MISERY Little Christmas," which will stream during December.
The Ringwald, which has been entertaining audiences at Woodward and Nine Mile for 14 years, has been shuttered since the pandemic struck in March.
Artistic director Joe Bailey said the decision to vacate the current building was a difficult decision, but it ultimately made sense to not be paying monthly rent on a space they are unable to effectively use.
"This decision has been very emotional for us, as you can well imagine," he said. "However, I do want to stress that this is not an ending – it is only a transition."
Bailey said it will be difficult for the Ringwald Company to leave its longtime home, but said they are looking forward optimistically to the future.
"Through all of this, we have truly discovered that the Ringwald is more than just a building; it is a community," he said. "So, we will commence our search for a new home, and we will continue to release virtual content as a way to stay connected to our audience and to raise funds for a new space, as we enthusiastically look forward to when we can all be together in one room again."
Bailey said he hopes the new performance space will have better situated restrooms and less-challenging parking.
"I want to thank all of our audience members and community, who have supported us through thick and thin, through highs and lows, through blockbusters and not-such-big blockbusters," he said. "We have persisted, and we survived, and we will definitely see you again when it is safe for us all to be together in one room."
Bailey said he hopes audiences will enjoy the digital content, including the upcoming unauthorized parody of the film "Misery," a project which he said is true to the theater's roots.
"Having opened our doors in 2007 with, 'Fatal Attraction: A Greek Tragedy,' it's fitting our final project on this stage will be another 'psycho biddy film parody,' albeit filmed," he said.
Bailey said each ticket purchased will also include a special holiday gift: A free virtual Christmas Cabaret, with all new content, featuring some of the Ringwald's most popular performers.
He noted that safety precautions were observed during the filming of both virtual offerings.
Company members Vince Kelly and Matthew Arrington wrote "Have Yourself a MISERY Little Christmas," which tells the story of Annie Willis, played by Suzan M. Jacokes, a lonely, slightly psychotic woman living in a remote Colorado cabin.
When Annie finds a wrecked sleigh during a blizzard, she rescues the survivor and brings him back to her cabin. However, when she learns the fellow is St. Nick, played by Joe Bailey, she becomes obsessed with having him rewriting his naughty and nice list to meet her demands.
In addition to Jacokes and Bailey, the cast includes Dyan Bailey as Mrs. Claus, Phoenix Eldridge as Twinkleberry and Vince Kelly as Lauren Bacall.
Brandy Joe Plambeck directed the show, with video editing by him, Turner and Dyan Bailey. Turner designed the sets, and Kelly designed the costumes.
Tickets for "Have Yourself a MISERY Little Christmas," are available at three giving levels: $20, $50 and $100, and the show will stream Dec. 4 to 31, with tickets available at theRingwald.com. After Dec. 4, the virtual link will be sent to ticket holders.