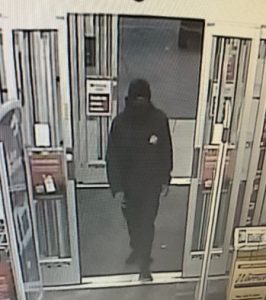 By SUE SUCHYTA
Sunday Times Newspapers
WYANDOTTE – Police detectives are seeking information on two men who brazenly shoplifted the morning of Nov. 7 at CVS Pharmacy, 2025 Fort St.
A store employee said that at 7:07 a.m., two black males, dressed almost entirely in black, entered the store separately.
One grabbed a hand basket and headed for the liquor aisle, where he grabbed one bottle each of Seagram's whiskey, Tito's vodka and New Amsterdam vodka. As the man headed for the exit, an employee reminded him that he needed to pay for the merchandise, to which he replied, "No, I don't."
The other man selected a cart, into which he placed 10 containers of Dove Body Wash and three packages of Axe body wash.
Then, when the other man left the store with the liquor, he stowed the body wash inside his pants and left the store without paying for it.
The surveillance footage was forwarded to the investigating officers.