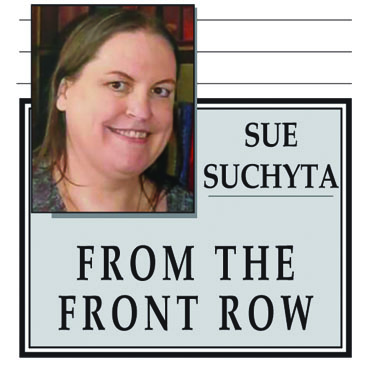 When the stage is dark, the wings are quiet and the classrooms are online, theatrical learning at the collegiate level requires a new level of improvisation and creativity to impart learning to future theater professionals.
The University of Detroit Mercy Theatre Company launched three mock theater project this fall, pairing students with guest artists and professional mentors to create, on paper and online, three theatrical productions.
The three shows, diverse in topic yet equally rich in opportunity, included William McNulty's adaptation of "Dracula," Moliere's "The Imaginary Invalid," and Stephen Adly Guiris' "The Last Days of Judas Iscariot."
Director and assistant professor Mary Liz Valesano said the project was developed in response to the COVID-19 pandemic and the limits it imposed upon production work.
"The Department of Performing Arts, looking for ways to keep students safe while staying true to our core values of discovery, collaboration, skills, mentorship and future opportunities, created this project," she said.
Five students formed a production team with a professional guest artist, with each student performing a specific role, such as costume design, lighting design, sound design, dramaturge, which includes research and adaptation, and stage managing.
"Over the course of six weeks, students collaborated with their production team to determine a cohesive design approach, conduct production analysis and research, and create written work, production paperwork and final designs," Valesano said. "Each week, students gathered on Zoom to present their work to the team, receive feedback and solve problems creatively."
Student Amelia Rose Glenn said the production meetings were a helpful part of the learning process.
"It provided insight of what it is like to work as a designer in a show in relation to a director and to the other designers and production team members," she said.
Valesano said the professional guest artists challenged students to think critically about the script, to make both practical and creative choices, and to then present them to their team with confidence and flexibility.
Student Nina Carlson said her interactions with her assigned guest artist encouraged her to delve into and imagine the play's options.
"My guest artist was very creative, and created an atmosphere where we could explore all of the possibilities," she said.
Valesano said the technical theater mentors taught students production skills and provided valuable feedback about their work.
"This helped our students discover a deeper understanding of the production process," she said. "The connections with local professionals will lead to future opportunities and cultivate a respect for all members of the production team."
Student Mason Modzelewski said the project gave him new insight into the production process from a technical perspective.
"It brought new aspects of production into my awareness," he said.
Valesano said the mentoring team is proud of the students' work, which is available online, at udmercy.edu/life/theatre/mock-production-project-2020.php.
While the student won't hear the applause and post-show accolades from a live audience, Valesano said some of the work will be submitted to the Kennedy Center American College Theater Region 3 Festival for review.
"Work that is submitted will be adjudicated by professional artists from across the Midwest and considered for awards," she said.
For more information about UDM Department of Performing Arts, go to udmercy.edu/life/theatre.