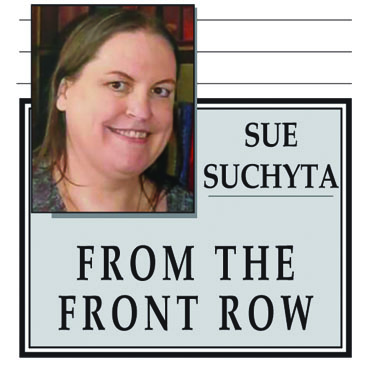 Setting the stage for seasonal cheer
As holiday traditions adapt to pandemic precautions, area performing arts aficionados have found a virtual way to spread holiday cheer with an online seasonal concert featuring local musicians and singers.
A 30-minute musical holiday show, sponsored by the Dearborn Community Fund and the city of Dearborn, features talent from the Dearborn Symphony Orchestra, the Henry Ford College Chorus, the Blue Fusion Vocal Jazz Ensemble, the Vanguard Virtual Voices and the Players Guild of Dearborn.
Mayor John O'Reilly Jr. praised the endeavor.
"Dearborn is so fortunate to have such high-quality cultural arts groups, and also fortunate to celebrate the holidays in this creative way, right when we need it most," he said.
The Players Guild of Dearborn's segment includes two pieces written and composed by Dearborn playwright Paul Bruce, "As Some People Tell It," with vocalists and PGD members Brian Townsend of Dearborn and Colleen Meade Ripper of Livonia, and "Theme and Variation on a Frozen Night."
Bruce said "As Some People Tell It" was written in 1994 for Townsend's PGD holiday show, "Home for the Holidays."
"It was written as a Christmas present for my friend Brian Townsend," he said.
The original stage performance is online, at youtube.com/watch?v=UnHZoNp2Y64.
"Theme and Variation on a Frozen Night," which Bruce composed in 2013, was created to be the underscoring music for PGD's March 2014 production of "Almost Maine."
"The rental cost for the music that went with the show was extremely expensive, so I just composed this piece to use in its place," Bruce said. "My score has been used in two other productions of the same show by other theaters in our area."
He said the PGD numbers were performed and filmed for the virtual holiday show on the stage of the Michael A. Guido Theater, at the Ford Community & Performing Arts Center, with Bruce playing the piano.
"It is always a joy for a composer to hear his work performed by someone other than the voices in his own head," Bruce said. "Hearing lovely voices bring the work to life is immensely gratifying, and knowing that others are hearing the work and liking it is even better."
Ripper and Townsend were in the original group who performed "As Some People Tell It," and Ripper said she loves performing with Bruce and Townsend.
As a Nurse Practitioner in an intensive care unit at Ascension Providence Hospital in Novi, Ripper said she was grateful to have a temporary respite from the stressors of caring for patients in a pandemic environment.
"It was five minutes of 'being normal' while being onstage again, and I am thankful for the opportunity to work with Paul and Brian again," she said.
Other musical selections in the virtual show include, "Masters in this Hall," by the HFC Chorus; "Wassail Song," by the Blue Fusion Vocal Jazz Ensemble; "Suite of Carols" and "Fantasia on 'Greensleeves'" by the DSO, and "Hallelujah" by the Vanguard Virtual Voices and the DSO.
The show will launch online Dec. 7, on cdtv.viebit.com, on demand, on the city's website, at cityofdearborn.org and on YouTube.
It will also play on City of Dearborn Television, Comcast channel 12 and WideOpenWest channel 10, from Dec. 7 to 31, at the following times: Monday and Wednesday at 7 a.m., 11 a.m., 3 p.m. and 11 p.m.; Tuesday and Thursday at 8 a.m., 12 p.m. and 4 p.m.; Friday at 7 a.m., 3 p.m. and 11 p.m.; and Saturday and Sunday at 9 a.m. and 5 p.m.
EmmaJean Woodyard, executive director of the Dearborn Community Fund, said the show is a unique combination of performances.
"We thought this could be a gift to the community from all of us," she said. "We could show that the arts are still going strong."