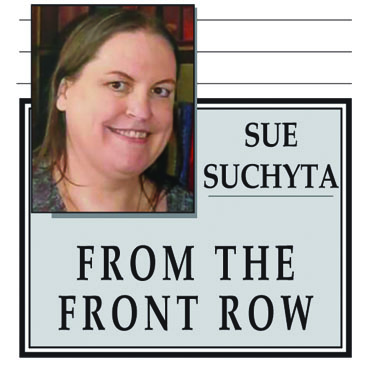 Anyone who has ever set foot on a stage is familiar with the rush of adrenaline, the moments of fear and the thrill of audience laughter and applause. Sometimes, though, the funniest moments are completely unscripted.
Actor Alan Ball, a graduate of Wayne State University's graduate Hilberry Company, said he's probably forgotten more stories than he can remember, but he recalls one humorous story that occurred when he was playing John Adams in the musical "1776."
He said they were doing nine performances a week, and as the lead, he was onstage for most of the 2-hour and 45-minute show, including all of the second act.
"It's a tough role, vocally, as he sings and yells a lot," Ball said. "Ben Franklin's first words to him are, 'My God, John, your voice is piercing.'"
The stress on his voice was considerable, so he was drinking a lot of tea before the show and during intermission.
"Well, you probably know the rest of the story," Ball said. "One night, shortly after the top of the second act, I had to empty my bladder."
He said he was two-thirds of the way through the second act, and had just finished his solo, "Is Anybody There," when the rest of the members of the Continental Congress begin to file in, singly or in pairs, to sign the Declaration of Independence for the final scene.
"This was where I saw my chance, and I took it," Ball said. "I looked at the first of them, and said, 'I shall return!' and strode off stage."
He said while his cast members may have been bewildered, they didn't miss a beat, and the show continued, with the Founding Fathers filing on stage while he headed offstage for the restroom. However, the tech crew was less prepared for his unscripted exit.
"I wasn't supposed to leave the stage at all, so the sound operator never thought to cut my mic," Ball said. "The audience was treated to an extra solo that night."
Longtime Players Guild of Dearborn member Rich Bulleri tells of the time unplanned dialogue onstage alerted him to the fact that he had just missed his cue.
In the early 1970s, he was in the green room in the theater's basement, talking to a techie, when she suddenly noticed that the actors on stage were delivering lines that were not in the script – they were ad-libbing because he had missed his entrance.
"I went running up the stairs, and, breathing heavily from my run, walked onto the set," Bulleri said. "My entrance line was, 'Well, I am glad to see you are all here.'"
Fellow Players Guild performer and local playwright Paul Bruce had a costume malfunction that earned laughter early in his performing career, when he was touring with "Up with People."
He said that during a rock 'n' roll number, with colorful costumes and a very athletic dance sequence, he had to flip his dance partner over his back at lightning speed.
"My partner's arm somehow managed to slide inside the back of my shirt, tangling her in the fabric," Bruce said. "As she flipped over my back, she ripped the entire lower portion of my shirt off, taking it with her."
He said the severed fabric was quickly kicked offstage, into the orchestra pit, by the couple dancing next to them.
"This left me to finish the number wearing two sleeves and a collar, roughly connected by what remained of the yoke," Bruce said. "Most of the audience was roaring. We never missed a beat, but the number left quite an impression."
Another local actor made quite an impression at a nearby restaurant during a food break between final tech rehearsals.
"The show was 'Shrek, the Musical,' and the role of Lord Farquaad was a delight," Michael Edward said. "It allowed me to be as bold as I wanted without any repercussions. I had over-the-top makeup and a hilarious wig."
Because it would take too long to re-apply his make-up after dinner, he went with cast members to a local burger restaurant with his character wig and stage makeup on.
"I had been around the same group of theatre kids for weeks, and I completely forgot about my shiny black wig, pasty white skin, rosy cheeks, and large, intricately drawn on eyebrows," Edward said. "However, when I sat down and waited for my order, an older woman nearly choked on her food when she looked up from her burger and saw my ridiculous get-up. I thought something was wrong until I realized that I was the only person at my table who looked absolutely insane."
He said the cashier was too polite to say anything.
"Thinking back, I forget how often stage makeup feels so normal until you step out onto the street and interact with non-theatrical folk," Edward said.