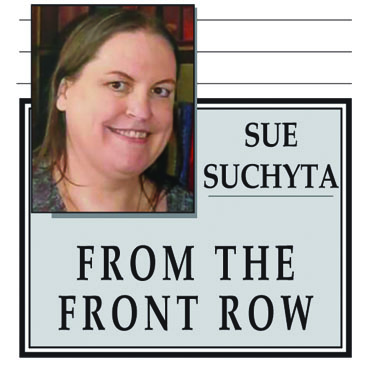 Women represent half the population, yet they are under-represented in the directorial ranks, from Broadway to community theater, for reasons ranging from financial to outdated mindsets.
A study published in 2018 by the Wellesley Centers for Women found multiple causes, ranging from cultural bias to financial limitations.
It noted that selection committees are biased toward choosing men for leadership positions, and stated that work-life balance is difficult to achieve in a field that requires long, irregular hours and extensive travel.
The Wellesley study also concluded that diversity must be actively pursued, as part of a cultural shift, that mentorship of women must be supported, and that the challenges of supporting oneself in the theater field while climbing the career ladder presents significant economic challenges.
A report published in October 2015 by the League of Professional Theatre Women, exploring gender parity outside of Broadway theaters, found, for five seasons, from 2010-11 to 2014-15, that, on average, only 33 percent of directors are women.
Krista Schafer Ewbank, founder and artistic director of Trenton's Open Book Theatre Company, said there are many reasons why women are under-represented in the directorial ranks.
"One major reason is that women are underrepresented in artistic leadership," she said. "According to a recent study by Wellesley Centers for Women, less than 27 percent of theaters have women in the artistic director role, and a 2015 study by the Dramatist Guild found that 78 percent of plays produced in American were written by men. When men are running the show, writing the plays and choosing the shows, there's not as much opportunity for women."
Ewbank said she routinely sees twice as many women at auditions for half as many roles.
"It's easier for men to get experience, but even still, it's not that there aren't women with the training and experience and skills," she said. "It's that they are not being given the jobs. I think that is starting to shift, but we have a long way to go."
Ewbank said that having more women in leadership roles will begin to make a difference.
"There is the sexism we need to keep addressing that is keeping women out of all sorts of fields: Equal pay for equal work, affordable child care, and women having the confidence to apply for the job," she said. "Time and time again, I see women downplaying their skills, while men often push forward with more confidence.
"We women have been taught for all our lives, both explicitly and inadvertently, to make ourselves smaller. We deserve our space at the table. Leaders need to make space for more women, and women need to demand equal access to that space."
Frannie Shepherd-Bates, founder and artistic director of the Magenta Giraffe Theatre Company from 2008 to 2013, and a director for the Detroit Public Theatre, Williamston Theatre, Tipping Point, Shakespeare in Detroit, Waterworks Theatre Company and Planet Ant, is currently the director of Shakespeare in Prison, which she founded in 2012 to work with incarcerated women.
She said the subjugation of women in the theater industry is much the same as practically any other field of endeavor.
"This realm has been dominated by white men for hundreds of years, since women weren't even allowed on stage, let alone be at the helm of a production," Shepherd-Bates said. "It's time to balance that scale, and there are a lot of incredible people working hard to make that happen."
She said leaders in the industry must be open to systemic change, and they must put their money where their mouth is, by intentionally hiring women artists.
"Men in the industry must hold themselves accountable for deeply ingrained misogyny that affects their perspective and behavior," Shepherd-Bates said. "We women need to hold men accountable as well. It takes a lot of work to recognize one's own biases, and it takes work to call someone out while giving them an opportunity not only to apologize, but to look inward."
Lavinia Hart, past artistic director of Detroit's Attic Theatre, and a former associate professor of theater at Wayne State University, said the reason there aren't more women directors is that it is hard to get a place at the table when it is surrounded by good ol' boys.
She said in the past 40 years, she has seen women help other women get their plays written, produced and directed.
"We have a few generations of women who are pulling the young ones up and getting them into the public eye," Hart said. "The last two jobs I've been assigned, since leaving Wayne State, have come from the invitation of women."
She said women need to tear down the old hierarchy and make room for strong, new voices.
"If a sister has a great idea, be the first to say 'yes,' and get it done," Hart said.
For information about the Wellesley Centers for Women theater study, go to wcwonline.org/Active-Projects/womens-leadership-in-resident-theaters?fbclid=IwAR2d2URGRHTuIygAyKDWlIW5Ac0CiA43eMok_hwB2EoZlpIpWCQ1KMC14Ug.