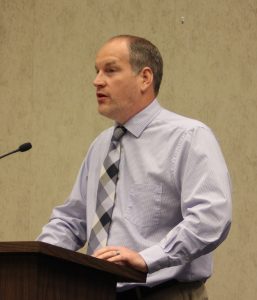 Long term residency at issue
By SUE SUCHYTA
 Sunday Times Newspapers
SOUTHGATE – The City Council is considering an update of the city's hotel, motel and inn ordinance, focusing on those which have become residences, with the intent of improving public safety.
At the Jan. 6 council meeting, City Manager Dustin Lent said the recommended changes would update the license and regulation ordinance with regard to the motels which have become residences.
"A few are kind of using their hotels and motels to do an apartment complex, and some of the ones that are located on Dix-Toledo Road have many residents there that are almost calling that their residence," Lent said, "and this ordinance gives us more teeth, to try to strengthen our ordinances, our regulations, our licensing, to get them to be a little more compliant when operating as a motel or hotel."
Lent said some of the proposed changes update the ordinance by instituting some stricter policies recommended by law enforcement personnel.
"Once again, it is making them a cleaner place, and a safer place, for our residents who live close to some of the hotels and motels, but also a safer place for our transient guests that are staying in those hotels and motels," he said.
Lent said the police and fire chiefs, the public safety director, the city attorneys and a judge have reviewed the proposed ordinance changes.
Council President John Graziani said the first and second reading of the proposed ordinance changes will be held during the Jan. 20 council meeting.
"This is a significant change in the ordinance, and everyone should really read it thoroughly," he said. "I think it is an excellent step. It is something that is long overdue, and I am glad that we are going to be making this move."
Lent agreed that the proposed change is significant.
"I would like to have input," he said. "The mayor has been very influential in trying to get our motels and hotels safer for our community. This is a huge, needed change for our community that will only make us stronger."
Kuspa agreed that the ordinance change is an important one.
"This all started pre-COVID, and it is very well thought-out, and we wanted to make sure we didn't bring any liability to the city, but we are able to do the additional enforcement through a logical and fair way of analyzing each of the situations that exist in the city, so I really commend (former Police Chief) Joe Marsh and (Public Safety Director) Jeff Smith and (Fire Chief) Marc Hatfield, and now, (Police Chief) Mark Mydlarz will be working with it, too," he said. "It is really a great sign of working together with all the public safety departments, to come up with an ordinance that really is going to have a positive impact on our community long term."
To see a copy of the ordinance, go to the city of Southgate Jan. 6 agenda packet, pages 7 to 23, on the city's website, southgatemi.org.