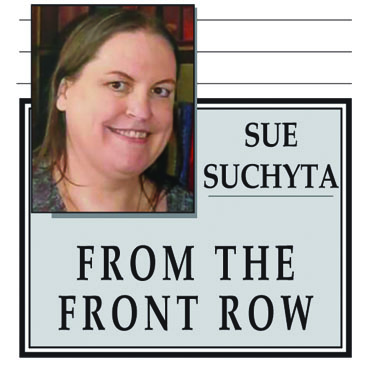 When a theater professional with a commitment to social justice sets her sights on bringing Shakespeare to incarcerated people, the result is Frannie Shepherd-Bates' remarkable Shakespeare in Prison program.
As a staff member of the Detroit Public Theatre's Signature Community Program, Shepherd-Bates, 36, who earned a bachelor's degree in Fine Arts from Wayne State University, has spent the past 15 years directing, teaching, doing sound design and choreography, and working for several non-profit organizations and theaters on the administrative and developmental sphere.
Nine years ago, she launched Shakespeare in Prison through the Detroit Public Theater, a 501(c)(3), a non-profit supported by donations from individuals, foundations and corporations.
Shepherd-Bates said when she was still in college, she was inspired by the work of the Theater of the Oppressed and El Teatro Campesino. Later, when she saw the documentary "Shakespeare Behind Bars," about a long-standing program by the same name, she felt compelled to follow in the same direction.
"I felt like I'd found my niche," she said. "After two years of gaining experience as a teacher and a director, as well as researching prison theater and running a small theater company, I contacted the Woman's Huron Valley Correctional Facility and submitted a proposal."
The proposal was approved, and on Feb. 7, 2012, Shepherd-Bates held the first session with a group of women inmates.
Since last March, when pandemic precautions were put in place, she has been sending Shakespeare-based activity packets to ensemble members at Huron Valley, as well as Parnall Correctional Facility for Men in Jackson, where they also have a Shakespeare in Prison program, and to youth at several treatment facilities.
Shepherd-Bates said those bringing Shakespeare to incarcerated people are there to facilitate, not to teach or direct.
"We are there to facilitate a usually months-long process in which we read, discuss, analyze, rehearse and ultimately perform a Shakespearean play that we have cut down to 90 minutes as a group," she said. "Ensemble work is key, and everything is fully collaborative."
Because the work is non-hierarchical, Shepherd-Bates said the facilitators merely introduce Shakespeare, and emphasis that there the only "wrong" way to do Shakespeare is to not do it.
"The playwright has been dead for 400 years, and the plays don't belong to him any more – they belong to all of us," she said. "Because of that approach, and because there is no pressure to be 'good' at anything, people usually get comfortable with the material pretty quickly."
Shepherd-Bates said one of her favorite parts of the process is the mentoring, the lack of judgement and the encouragement that develops among ensemble members.
"We've always performed at the end of our process, but performance is never the ultimate goal," she said. "It gives the ensemble a common purpose as we go through the process."
Shepherd-Bates said SiP has continued to work, remotely, with people who have been released from prison, and they have collaborated on a series of short collaborative films with alumni of the program.
"We have developed the manuscript for our own critical edition of 'Richard III,' with an analysis by SiP ensemble members and alumni, and we have begun the process of seeking a publisher," she said. "No other book like this exists, and we are very excited about bringing new voices into dialogues about Shakespeare, from prisons and schools to the highest levels of academia. New projects are always popping up."
While each participant in the program has a unique story to tell, Shepherd-Bates said the common thread is the development of their own narrative identity.
"Through working on the play, and working as a collaborative group – gaining confidence, identifying skills and supporting others – people move from disempowerment to empowerment, from 'I can't' to 'I can,'" she said. "This development extends to other areas of their life, and we see people develop new goals and achievements."
Shepherd-Bates said she has seen participants signing up for GED and college classes, writing and directing plays, becoming public speakers or simply learning to make eye contact with others.
"It is an honor and a privilege to get to be a part of that process," she said. "By analyzing certain characters' objective and tactics, they can analyze their own. That new perspective, and feeling a deep connection to 400-year-old plays and people, is crucial as they move forward in their lives."
Matt Lujan, an alumnus of SiP, said the program had a significant impact on him.
"I was institutionalized and isolated for so many years that I was stuck inside myself," he said. "I didn't want to be around anybody."
Lujan said a friend "tricked" him into signing up for SiP, but he stayed to see what it was all about.
"Through the process, it really brought me out of my shell," he said. "I made great friends, and it really socially helped me. Shakespeare became almost like an obsession. And through the process, you learn more about yourself, and how to cope with things."
Lujan said that once one is willing to show their vulnerability, and is comfortable with it, one's true self will emerge.
"You see huge positive changes," he said. "When you get together for a common cause, the opposites form a brotherhood. There is a bond that is built."
For more information, go to detroitpublictheatre.org/shakespeareinprison.