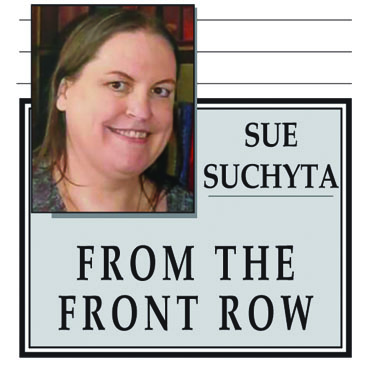 Whether he was bathing the stage in beautiful color, gracing it in a character role or ushering in the house, long-time Players Guild of Dearborn member Steve Gautreau has made his final curtain call.
Gautreau, who died March 27 following a stroke, had struggled in recent years with encroaching dementia.
A lifelong Dearborn resident, he discovered theater while a student at Edsel Ford High School, and joined the Players Guild of Dearborn in 1961, while still a teenager.
He took theater classes at Henry Ford College and Western Michigan University, and learned lighting and sound design at the Players Guild from Gene Reynolds.
Gautreau won 14 Dearborn PAGE Awards for lighting, sound and set design, and in 1997 was inducted into the Dearborn Theater Hall of Fame.
Following his college graduation, Gautreau served in the U.S. Army, where one of his duty assignments was to accompany soldiers killed in Vietnam back home and help arrange their military funerals, a stressful assignment.
In addition to his Players Guild of Dearborn membership, Gautreau was active with the Dearborn Community Arts Council.
His sister, Anne Gautreau, said her brother missed his chance to fulfill his dream to go to New York City to become a professional lighting designer.
"He saw light as the visual equivalent to sound with its parallel ability to evoke emotion and communicate truth," she said. "The lights come up, and all in attendance enter the magic time, and Steve reveled in those effects."
As Gautreau's cognition declined, he still returned to the Guild to usher.
"He was the head cheerleader for the Players Guild of Dearborn," Anne Gautreau said.
Guild member Tom Sparrow, who played Henry to Gautreau's Mortimer in "The Fantasticks" at the Guild in September 2013, said that whenever they met after the show closed, they would greet each other with lines from the show.
"He would say, 'Where do you want me, Henry?' and I would always say the response, 'Off left, Mortimer – Indians are always off left,'" he said. "Well, now you are off left, old friend. Rest in peace."
Guild member Rich Bulleri said Gautreau was memorable in "The Fantasticks."
"He did some acting when he saw a role he wanted and was able to get into the cast," he said. "Steve was always a good person to work with, on stage or off."
Guild member Paul Vandevert said Gautreau's exit from his earthly realm, on World Theater Day, was "impeccable timing."
"You were one of those rare people who make up the stuff that is theater, just as comets with aberrant, unpredictable orbits made up the stuff of the universe," he said. "You could be brutally honest, and the point of your stories could be harder to get than a Biblical parable."
Vandevert said that Gautreau's quest for a "rep lighting plot" – a system installed on a semi-permanent basis to provide illumination for rehearsals and to serve as the basis for lighting a show – came from his passion to prepare the Guild to light any show at any time.
In addition to touching every corner of the stage with his lighting, he said Gautreau touched an almost infinite number of lives.
"You may have been Dearborn's number one volunteer, ushering at the Guild and functions at the Civic Center, and delivering Meals on Wheels," he said. "You were a storyteller, whose stories always had a purpose, something to learn from and something that showed the path ahead."
Guild member Brian Townsend said he and Gautreau also greeted each other with show lines, saying "Aye-ope-dee Brian," his version of a line from "The Secret Garden," to which Townsend would reply, "Aye-op-dee, Steve."
"You could be a curmudgeon, a stinker and an old fart, but beneath that gruff and cantankerous layer, you had a great heart and a willingness to help those who needed it," he said.
Guild member Stan Guarnelo said Gautreau was one of the first people he met when he joined the Guild.
"He could yell and argue as well as any old crank, but he could wash the stage with the most beautiful colors and shadows," he said.
Guild member Sydnee Rose Corbin said Gautreau was also one of the first people she met when she joined the Guild.
"Steve was a whole trip with his ghost stories and an impressive wealth of toilet humor," she said. "I will miss seeing him at the theater."
Guild member Rebecca O'Shesky Hermen was also familiar with Gautreau's oral history of the Players Guild's hauntings.
"He's joined the ghosts that hang out at the Guild," she predicted. "Watch out for him and Diana and David Reynolds Sr. – benign, but mischievous all."
Paul Bruce said the world is a sadder place without Gautreau, who traveled to New York and Chicago to see Bruce's show opening regionally, while wearing the shirts from the original Dearborn productions.
He praised Gautreau's technical theater ability, as well.
"It was wonderful to see you magically light shows with such panache that they actually seemed to breathe," Bruce said. "It was wonderful to see you in rare stage appearances, playing cantankerous old men, a real stretch."
He said he will miss seeing Gautreau ushering, and his candid quips when he directed a show.
"Don't take any guff now that you are upstairs," he said. "Get busy – I'm sure the lighting is substandard and needs your help. Save me some vintage Goebels if you find any while you are gutting the place."