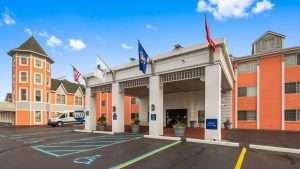 By SUE SUCHYTA
Sunday Times Newspapers
ALLEN PARK — A locked burgundy 2006 Ford F-250 pickup was reported stolen the morning of May 20 from the rear parking lot of the Best Western Hotel, 3000 Enterprise Drive.
The vehicle owner said the theft occurred between 9 p.m. May 19 and 8 a.m. May 20, and glass from a vehicle window was found on the ground near where it had been parked.
A hotel employee said a manager would access the surveillance footage and forward anything relevant to the Allen Park Police Detective Bureau.