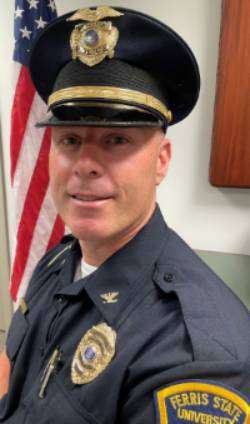 By ZEINAB NAJM
Sunday Times Newspapers
RIVERVIEW — The city has a new police chief after the City Council unanimously confirmed the appointment of John Allen during its June 6 meeting.
The first day as chief for Allen will be June 13.
"I am honored and humbled to have been chosen to be the chief of police for the city of Riverview," Allen said in an email statement. "I look forward to recruiting and retaining personnel, promoting our department, and building trust with the community and our community partners."
City Manager Douglas Drysdale made the appointment of Allen to the position, but it required a confirmation by the city council, per the city charter.
Before joining Riverview, Allen was the Ferris State University Department of Public Safety director, a position he held since March 2021. He also previously served as Melvindale's police chief.
Allen was employed by the Melvindale Police Department from 1997 to 2021, working his way up the ranks from patrol sergeant to police chief in October 2016.
Lt. Robert Bemis has been serving as interim police chief since February following the resignation of former Police Chief Ronald Beggs.
Drysdale, with the help of his administrative staff, began working to update the chief job description to post the opening internally for interested candidates as well as on the Michigan Municipal League and Michigan Association of Chiefs of Police websites.
Drysdale received nine applications. He and staff reviewed the resumes and experiences to narrow down the potential candidates.
Four candidates were then selected for interviews, which were conducted in early May.
"John Allen was selected by the interview team as the best candidate for the position, which he accepted," Drysdale said.
To watch the council meeting go to www.cityofriverview.viebit.com.
(Zeinab Najm can be reached at [email protected])