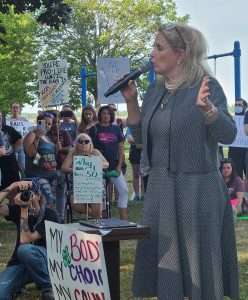 Attendees urged to 'turn anger into action'
By SUE SUCHYTA
Sunday Times Newspapers
WYANDOTTE – A Downriver Rally for Bodily Autonomy, formed in the wake of the U.S. Supreme Court overturning Roe v. Wade, urged pro-choice attendees to turn their anger into action.
One of the event volunteers, Lonnie Curri of Wyandotte, said they hope to gather signatures to get a reproductive freedom initiative of the ballot in Michigan in November.
"We are making sure that women in Michigan are not defaulted back to whatever rights and options we had in 1931," she said. "It is possible to be pro-choice and pro-life – the two are not mutually exclusive. It is possible to not be a fan of the act of abortion and really want to educate people to make different choices, but to absolutely support the choice." 
Devin McCardell, 23, of Trenton, said, as a transgender person who is also facing reproductive discrimination, that this is a united fight. 
"When it comes to transgender people, when it comes to queer people, when it comes to black people, when it comes to people from every walk of life, all of this is intertwined," they said. "Our fights are united, so I am hoping that message is what comes across." 
They said friends are worried that the Supreme Court may take away LGBTQIA rights, as well. 
"If there is any way, as transgender people, that our access to medical care could have a ripple affect of laws, taking away our gender therapy or hormone replacement therapy, I am having these conversations with my loved ones, with my friends, with my family, about what I would need to do, and where I would even go," they said. 
U.S. Rep. Debbie Dingell (D-12th District), said it has been a surreal week. 
She said one usually doesn't see this type of gathering in Wyandotte, and she is stopping and talking to as many women as she can. 
"I can't believe that we are watching what we are watching in this country," Dingell said. "Young women can't believe that anybody can tell them what they can do with their bodies, and seasoned women are concerned that we are going back, not forward." 
She said this is about women's health care. 
"These decisions should be made between a woman, her doctor, her faith and whoever her partner, her family, the relationship is," Dingell said. "I think that people just can't believe that we are going backwards now. 
"I spent 50 years working for a lot of things – progress for equality, for all Americans, in so many different ways, and this week with the Supreme Court has been a very stunning week." 
She said she is very concerned that the Supreme Court has become so political that it will no longer have any credibility or viability. 
"I have been talking to too many people that don't trust the Supreme Court anymore," Dingell said. "You need to believe in the three institutions, and people don't."
One of the people she talked to, speaker Adriana Villanueva, said she was among those who were furious when she heard that the Supreme Court overturned Roe v. Wade. 
"We are still furious today," she said. "The Supreme Court made decisions about our bodies that does not sit right with me." 
Villanueva said it was time to stand up and let their voice be heard. 
"We are here to fight," she said. "Our bodies, our choice."
Villanueva urged those in attendance to vote in November to show their support for reproductive choice.
Speaker Geneva Korytkowski of New Boston shared her heart-wrenching journey of multiple miscarriages, and the need for abortion to prevent sepsis and other life-threatening medical complications.
She said Roe v. Wade has had an impact on her family and others. 
"I stand before you as one human with one story," Korytkowski said. "The rage, grief, depression and numbness have all been revived during this overturning, but before it consumes me, like I was consumed at the loss of my babies, I am striving to funnel my feelings into resolve.
"I have three daughters and one son who need me, and I resolve to raise my son to respect all bodies and each person's choices." 
Speaker Jaime Churches of Wyandotte, a former teacher who is running for District 27 state representative, said women should never have to worry about their reproductive systems, and their decisions should be made between them and their health care provider. 
She called for getting the right to reproductive freedom initiative on the ballot in Michigan this November.
Churches said a climate that allows a change like overturning of Roe v. Wade didn't happen overnight, and it didn't begin in the Supreme Court, but has been happening for years. 
"It is time for us to take change into our hands," she said. "Change starts with an idea, with a conversation, on doorsteps, on sidewalks.
"We must be the change that we want to happen for our sisters, for our daughters, for every person capable of reproducing. It is time for us to come together." 
Churches said change will take time, and urged those in attendance to fight for that which they believe. 
"It is time for us to all show up in our own way, no matter how big, no matter how small, and we need to come together," she said. "Your voice matters, your health care matters, and we won't back down, so together we fight."
Dingell said that the anger that women are feeling must be turned into productive action. 
"We have to make sure that people hear our voices and people remember elections have consequences," she said. 
Dingell said Justice Clarence Thomas' statements on contraception should concern them, and said the Supreme Court should not be deciding what contraception people use. 
Thomas recently said that the Supreme Court should reconsider its past rulings on the right to contraception access, same-sex relationships and same-sex marriage.
"We cannot tell any two people that love each other what they can do and not do," Dingell said. "It took a long time for us to get that, and I will be damned if we are going to let six people take us back in that way again."