By SUE SUCHYTA
Times-Herald Newspapers
DEARBORN – A new mural is coming to life on the east side of Alanos Pizza and Subs, 14212 Michigan Ave., because of the efforts of the 2022 Pockets of Perception team. 
The POP program, launched in 2010 by the non-profit Dearborn Community Fund, was created to encourage multicultural understanding among teens through the creation of a work of public art. It also encourages young artists to learn about the business side of art installations, to become involved and invested in the community, and to create permanent art installations for the public to enjoy. 
The teams are composed of high school students, who formally apply to participate, and who are willing to commit to the project's schedule. 
Team member Eliana Pettigrew, 17, of Wyandotte, said the name of the mural is "Replenish."
"Our background is native flowers from Michigan, so we wanted to emphasize the diversity and beauty that can come from a place," she said. "It's also an ecosystem of diverse plants that all work together to form something beautiful – they all have something unique to offer – sort of like our community." 
Pettigrew said the central figure, the girl, is holding a kintsugi bowl, which is the Japanese art of repairing pottery by bonding the broken pieces together with lacquer mixed with a powdered precious metal. 
"It's not trying to hide imperfections, but it's celebrating them and turning them into something strong and still beautiful," she said. "And the water coming down is about replenishing the community and helping the community to heal and to grow. It's nourishing the girl and also all the flowers that are diverse and beautiful."
Project Director Sunshine Durant said that this is the first all-girl student POP team. 
"It's kind of like girl power here," she said. "I like to have diversity and have a couple boys, but it is kind of neat to have all girls for one year." 
Durant said this year's team is lively and talkative. 
"They don't need a lot of direction," she said. "The group when we came out of COVID took a while to get going, but this group's ready to go, ready to rock-and-roll, and you don't have to direct them a lot."
Durant said the group is motivated to work on the project and complete it. 
She said the east-facing brick wall of Alanos was painted last year, so it was a good surface with which to start. 
"We are using exterior paint, and then we will maybe use some spray paint, but that's about it," Durant said. 
Pettigrew said it was exciting to see the design begin to take shape on the wall of the building. 
"It was so cool to see everyone's ideas integrated, and when I saw it on the wall was when it really hit me," she said. "It really is awesome to see the transfer from all of our collective ideas and the plans that we made, and to have it on the wall. It really is exciting." 
Durant said the group has two returning team members, Maren Kerr, 18, of Allen Park and Danya Jamalaldin, 17, of Dearborn. 
The guest artist, known as "Midwest Anthony," trained as an illustrator. He has worked as a freelance artist on projects across the Midwest. 
He said that while this is his first POP project, he has worked on murals with students in the past, including a group from Cesar Chavez Academy in Detroit and at Allen Park Community School, a public alternative school. 
Anthony said he is pleased with the progress of the POP mural.
"It's going pretty well so far, and it's an opportunity to be able to work with the kids and help them with any questions, guidance or inspiration," he said. "They are a creative bunch, and all they need is just a little bit of direction, and then they take off from there." 
Padzieski Gallery curator Sasha Corder said the mural isn't as high as some of the past POP murals, so they don't need a lift, and can reach the upper part of the mural with ladders. 
She said primed brick like the Alanos Building is fairly porous, and is a typical mural surface on which to work. Last year's mural on the Blick Building was painted over glazed brick tiles, so a different base material was needed before it could be overlaid with paint. 
Corder said the mural will be sealed with a marine clear coating upon completion, which protects the mural from the weather and ultraviolet radiation from the sun. 
She said that when she watches the POP team paint and connect with each other and the project, she and the team know that they are making an impact.
"They know when people are driving by and waving, and they are getting more excited," Corder said. "Collectively what we are doing, on an individual level with these artists, is making those connections and increasing their professional development, to go on and make this a career."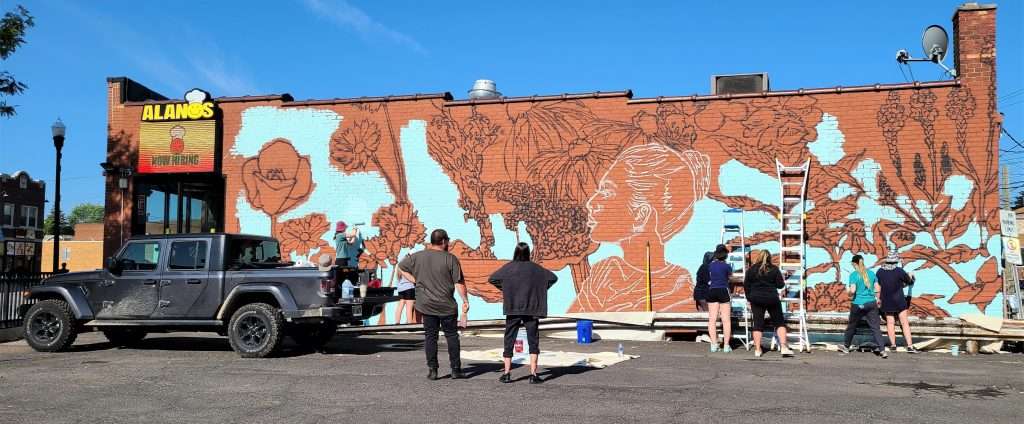 She said it also shows the community that creating art installations like this is not only a viable career option, but it positively impacts the community.
"They come together and appreciate the scenes in their city, and it gives support to these young artists," she said. "It's very fulfilling." 
Kerr said she returned for a second POP project because she really enjoyed her first experience. 
"The first mural really inspired me to continue an artistic journey throughout my life," she said. 
Kerr said as a returning team member, she was more familiar with what needed to be done. 
"I am very excited to see how this turns out," she said. "I love painting, and this is a great experience. I love working with a nice group of people."   
Other student artists on the team are Dearborn residents Isabela Sierzputowski, 15, Gwen Zonca, 17, Grace Schook, 16, and Lauren Boyce, 15; and Yasmin Gonzalez, 17, of Lincoln Park.
The 2022 POP sponsors include The Ford Motor Company Fund, Nuvue Investments LLC, Rafi Rayes, Robert W. Curtis, Steve and Faye Adelson, the City of Dearborn, Sherwin Williams Paint Store 701195 of Dearborn, James and EmmaJean Woodyard, and the Padzieski Gallery.  
To support future POP projects, contact the Dearborn Community Fund office at 313-943-5478, or go to its website, DearbornCommunityFund.org.