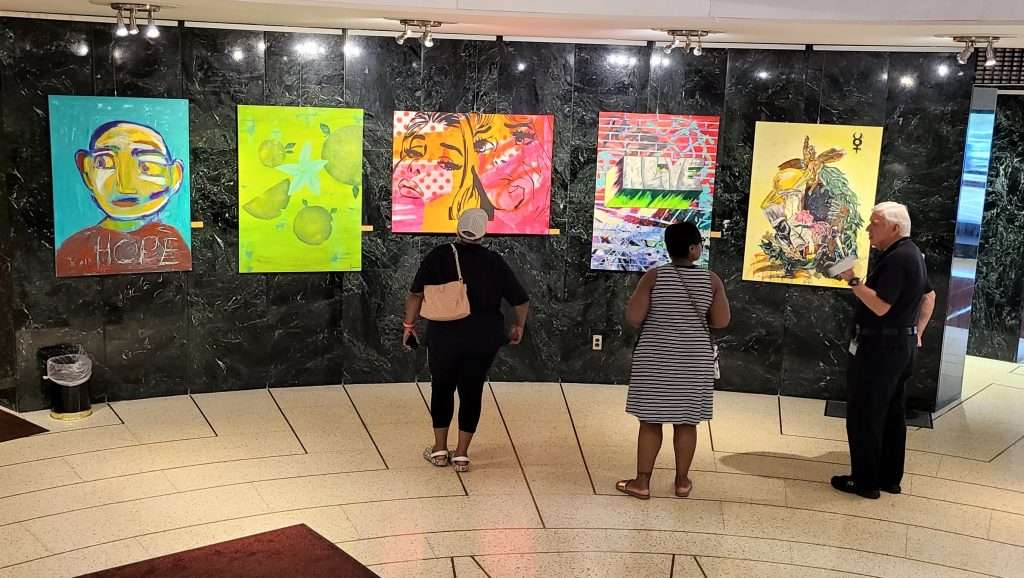 By SUE SUCHYTA
Times-Herald Newspapers
DEARBORN – "Art Off the Wall," featuring select works from 2022 Homecoming's "Paint Out in the Park," will be on display through Sept. 8 at Henry Ford Centennial Library's Rotunda Gallery.
The exhibit represents the work of artists from across southeast Michigan, and includes the judge's first place winner, Kyle Kitchen's Michigan-themed "The Hand" and the second place winner, Noelle Dahl's appetite-inspiring "Anatomy of a Happy Cheeseburger."
The judges' honorable mentions on display include Jason Kimble's "SPACE Wheeler," Midwest Anthony's "Story in my Eyes" and BMOE's "Dragon in Space."
Lauren Boyce, who was recognized as an emerging artist, has her work, "Leaf Umbrella," on display. Of the three emerging artists receiving honorable mention, Lenora Cutright, Jackie Soliel and Danya Jamalaldin, Cutright's "Family Treasure" is on display, as is the People's Choice award-winner, Chloe Rahal's "Urban Silence." 
Other works on display at "Art Off the Wall" are Cameron Jenkins' "Protected," Greg Justus' "Day in the Park," Amber Roy's "Crystal Vortex," Heather Mary Quaine's "HOPE," Yasmin Gonzalez's "Seed," Biz Drouillard's "Girls Night Gone Bad," Dylan LaPratt's "Alive," Ashley McFadden's "Mrs. McFadden," Martina Sanroman's "Untitled," Matthew Thornton's "MFDOOM" and Patricia Howell's "Festival Buzz." 
A closing reception will be held from 5 to 7 p.m. Sept. 8 at the library. 
Most of the work is available for sale.
For more information, go to padzieskigallery.org.