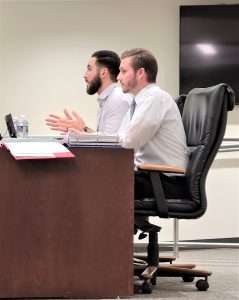 By SUE SUCHYTA
Times-Herald Newspapers
DEARBORN – The City Council awarded a contract to OHM Advisors, an architectural, engineering and planning firm, to evaluate the city's storm, sanitary and combined sewers during its Aug. 23 meeting. 
OHM Advisors was one of five responding bidders, and is an architectural, engineering and planning firm with offices in Michigan, Indiana, Ohio, Kentucky and Tennessee. 
While city officials indicated that they do not believe that Dearborn's existing sewer system is defective, they want an independent evaluation of the existing collection system, its outfalls and its anticipated response to rain storms of varying magnitude, and with respect to river levels into which the storm sewers flow. 
With climate change raising lake levels, which in turn raises river levels, and with heavy rainstorms occurring more frequently, city officials want to determine which short- and long-term system improvements are available to mitigate potential street and basement flooding, and what the different options might cost. 
East Dearborn's sewers were constructed in the 1920s and 1930s, and were designed to convey 3 inches of rainfall over a 24-hour period, while west Dearborn's sewers were installed in the 1940s and 1950s, and were designed to convey 3.3 inches of rainfall per day. 
City officials said the system was designed based on 20th century standards, which cannot accommodate the increased rainfall that may occur as a result of 21st century climate change.
Most recently, Dearborn has experienced weather-related flooding in 2010, 2011, 2014, 2016 and 2021. 
The goal of the study is to develop a comprehensive, reliable model that will allow alternative plans and recommendations to be compared and evaluated. 
The project budget is $1.5 million, with $900,000 requested at present, with funds coming from the sewer fund, capital project support and architectural and engineering service allocations. Additional money may come from the city's general fund and from the money the city had budgeted to pay its share of the Highland Park sewer rate bad debt, which the Great Lakes Water Authority is no longer levying against its solvent member cities. 
City officials may also request money from State Shared Revenue, which is derived from the state sales tax. 
The long-term goals are to eliminate sewer backups, as well as preventing raw sewage from entering basements, and to develop mitigation alternatives to prevent basement flooding. 
City officials seek both long- and short-term solutions, and want the model to anticipate the impact of climate change from both rain and rising lake and river levels over the next 30 years. 
Mayor Abdullah Hammoud said he hopes to see green infrastructure solutions developed as part of the city's plan. 
In addition, he said he hopes that a comprehensive sewer system study will provide a reliable road map for the city's future capital improvement projects.