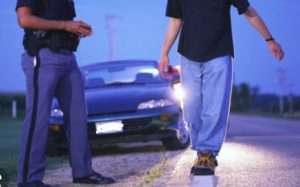 By SUE SUCHYTA
Sunday Times Newspapers
MELVINDALE — A 26-year-old Livonia man was arrested at 1:55 a.m. Aug. 6 for operating under the influence of alcohol when police officers saw him driving on northbound Schaefer Road with his vehicle's headlights off, and swerving into the left lane, which was the wrong direction of travel. 
A traffic stop was initiated, and the driver's speech was slurred, his eyes were glossy and red, and his motor skills were diminished. 
He admitted to having had several drinks with vodka at a bar in Detroit, and he was unsteady on his feet as he stepped out of the vehicle. 
The man failed standardized field sobriety tests, and he refused a preliminary breath test on site. He was then arrested and his vehicle was impounded and towed. 
He was taken to the Dearborn police station, where he agreed to take a DataMaster breath test. The test was administered, and the man had a blood-alcohol content of 0.16, twice the 0.08 limit for legally drunk in Michigan. 
During the booking process, the man expressed suicidal thoughts, and Dearborn rescue personnel petitioned for him to be evaluated at Beaumont Hospital, Dearborn. 
The man was found to have a prior OWI arrest in 2019, and because of that, his license plate was confiscated, and a temporary paper plate issued.