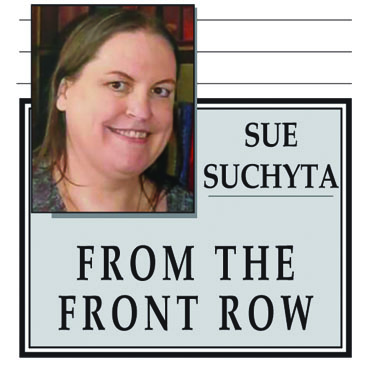 Trenton's Open Book Theatre Company's season-opening Lauren Gunderson satirical comedy "The Taming" brings together a Miss America contestant, a liberal blogger and a conservative senator's aide who humorously take on the nation's political divide.
OBTC opens its ninth season with an all-female cast in a politically fascinating show that runs Sept. 9 to Oct. 9 at the theater, 1621 West Road in Trenton.
Directed by Frannie Shepherd-Bates of Huntington Woods, the cast includes Taylor Towers of Trenton as Katherine, a Miss America contestant; Stephanie VanAlstine of Ann Arbor as Bianca, a liberal blogger; and Krista Schafer Ewbank of Woodhaven as Patricia, an ultra-conservative senator's aide.
Ewbank, who also is OBTC's artistic director, said the play is perfect for the current political climate.
"No political position goes un-skewered, and in the absolute bonkers premise of the show the audience can laugh at others and themselves, and therefore be open to things in new ways," she said. "Comedy has always been used to challenge the status quo, and this show is so smartly written, it packs a real punch."
Director Shepherd-Bates said the show is both hilarious and thought-provoking.
"It gives us an opportunity not only to laugh at others, which we are doing anyway, but to laugh at ourselves as well," she said. "It provides a point of connection between people all across the political spectrum and highlights both the problems in our political system and possible solutions."
Shepherd-Bates said the show is both biting and optimistic.
"I love a good political satire, and the only way we are going to get past our collective political vitriol is to find ways of connecting and compromising," she said. "The only way we are going to effectively address deeply entrenched social issues is by confronting them head-on."
Shepherd-Bates said the play, which was written in 2015, would probably be different if Gunderson were writing now.
"While it is still extremely relevant, our politics have shifted at a lightning pace since the play was written," she said. "It is intriguing to think about if or how the playwright's approach might also have shifted."
VanAlstine said the play invites audiences to laugh at characters who hold their belief systems too tightly, and in doing so might begin to see that there is a bit of themselves that they are laughing at as well.
"This play is asking us to be open to finding the space that exists between the political aisle, when our minds have been so drastically closed to people living on the other side," she said.
VanAlstine said she can identify with her character's ability to become caught up in the activism of posting her opinions online.
"The number of social media posts that I have put up, taken down, edited, re-posted and deleted is exhausting and overwhelming," she said. "Coming to the realization that your efforts look like you are doing something powerful while not actually accomplishing anything meaningful is painful, and is frustrating and obnoxious to those who are actually suffering."
VanAlstine said posting views on social media do not make a problem any lest prevalent.
"When you start to do actual work in the world of activism, you realize that it's the small and meaningful things that no one actually sees that make the biggest impact," she said. "Bianca hasn't gotten there yet and I empathize with her journey to find it."
VanAlstine said "The Taming" conveys an important message to audiences.
"With the political climate feeling as dire and frightening as it does right now, the opportunity to laugh while also getting a look at things from a different lens is absolutely critical," she said.
Towers said the show explores how bipartisan politics often prevents people from taking action on topics in which people tend to agree.
"In this show, we are presented with two people on opposing ends of the aisle who are no longer fighting each other's ideas, but are instead fighting the strawman they've created for the other's politics," she said. "While I realize that this topic is a lot more nuanced today, I believe that recognizing that most people have the common goals of protecting everyone's freedom and pursuit of happiness could lead to more open and productive dialogue."
Towers said she also is excited to be able to dispel the image that many people have of pageant participants.
"As a local competitor myself, I was often met with the public opinion that being vapid and friendly was all it took to compete," she said. "What most people don't see is how hard each of the candidates fights to enact real and positive change in their communities."
She said she focused on assault prevention and survivor advocacy during her involvement with the Miss America organization, and has seen other competitors support a wide range of causes, from bringing the arts back into schools to fundraising for research to cure serious medical conditions.
"Miss America is a scholarship competition, and title competitors are pursuing higher education with serious career goals," she said. "By no means are any of these women competing airheaded, as we may have been portrayed in other media. We are all just as intelligent and proactive as Miss Georgia (Katherine) is in "The Taming."
Open night tickets are $35, with the remaining shows $30 for general admission, $25 for seniors and $15 for students.
The show runs 8 p.m. Sept. 9, 10, 16, 17, 23, 24 and 30, and Oct. 1, 7 and 8, with 2 p.m. Sept. 11, 18 and 25, and Oct. 2 and 9 matinees.
For more information, and to order, go to openbooktheatrecompany.net.
HENRY FORD COLLEGE THEATRE DEPARTMENT TO HOLD AUDITIONS
Henry Ford College's Theatre Department will hold auditions from 6 to 9 p.m. Sept. 8 at Adray Auditorum in the MacKenzie Fine Arts Center for three plays: "The Passage," which will be performed Dec. 1 to 4, and "5 a.m. Pancakes" and "Tenderly," with Jan. 20, 21, and 27 to 29 performance dates.
Auditions are open to current students of HFC and the University of Michigan-Dearborn, as well as HFC dual-enrolled students, faculty, staff and alumni.
While no experience or preparation is required for the auditions, those with experience are encouraged to bring a theatrical resume, a head shot and to perform a monologue two minutes or shorter if they have one prepared. Those attending may audition for one or more of the shows.
Those with questions, or who wish to participate but cannot attend the audition, should contact John Michael Sefel, Ph.D., HFC director of Theater, at [email protected].
"The Passage" is a retelling of Herman Melville's novel "Moby Dick," set on the cursed voyage of the Pequod, with obsession and revenge at the center of the play. All of the roles are open to actors of all races, gender identities, disabilities, body types and ages. Rehearsals will be held 6:15 to 9:30 p.m. Mondays and Wednesdays, with mandatory Nov. 19 to 22 and 28 to 30 tech rehearsals.
"5 a.m. Pancakes" is a 10-minute play about two young women arguing about how to write the obituary for their friend, who died of COVID-19, and is a play about grief, friendship and forgiveness. The roles are for two women of color in their 20s, of any body type or disability.
The play "Tenderly" is about two college students, male and female, in their 20s, falling in love, one of whom is on a student visa from the Middle East, which puts the relationship in jeopardy. The woman should identify as Persian, Middle Eastern or North African, while the man may be of any ethnicity. The roles are open to any body type or disability.
Rehearsals for "5 a.m. Pancakes" and "Tenderly" will be held in the fall based on cast availability, but those cast will be required to attend the mandatory Jan. 14 to 19 tech rehearsals.