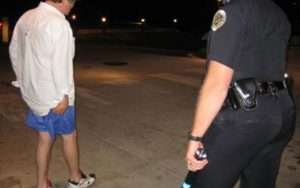 By SUE SUCHYTA
Sunday Times Newspapers
RIVERVIEW — A 34-year-old Southgate man was arrested about 2 a.m. Sept. 11 for operating under the influence of alcohol, after he and his pickup were found stopped on Vreeland Street blocking traffic, with its headlights on and music blaring.
When a police officer approached the man, the driver tried to turn off his vehicle while it was still in drive. Next, he turned the pickup back on and shifted into reverse. The police officer then entered the vehicle from the passenger side and put it into park before removing the ignition key.
The man smelled strongly of intoxicants, his eyes were glassy and bloodshot and his speech was notably slow.
The man failed numerous standardized field sobriety tests. A preliminary breath test was administered, and the man had a blood-alcohol content of 0.162, more than twice the 0.08 limit for legally drunk in Michigan.
He was taken into custody and transported to the Riverview police station, where he was booked and held, and his pickup was impounded and towed.