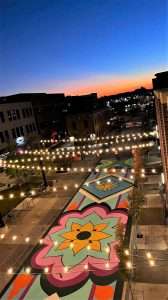 By SUE SUCHYTA
Times-Herald Newspapers
DEARBORN – Asphalt Art, community roadway murals, have come to Dearborn, with a section of Village Drive between Mason and Monroe streets adorned with a colorful creation designed by artist Rick Brown. 
Sasha Corder, curator of Dearborn's Padzieski Gallery, said the project is a partnership between the Downtown Development Authority, the Padzieski Gallery and the Dearborn Community Fund. 
She said the purpose of street murals is to slow traffic in targeted areas, which is supported by research studies. She said it also decreases accidents involving vulnerable road users, such as pedestrians and bicyclists.
"It really just draws attention for drivers to slow and really pay attention in that area," Corder said. "With this being a very congregated area in the weekends and the afternoons, and for the Artisan's Market, it was a really good way to put that research to use in an area that could really use a little more attention to traffic through this area." 
She said the paint being used on the roadway surface should last for at least four years, and is being created using paint designed for use on concrete roadways, as well as on basketball and tennis courts. 
"It is made to last on concrete and asphalt," Corder said. "We are also going to put a non-skid coat on it, so that even though people are going to be driving through here, it will be protected for years to come." 
She said the mural shouldn't be impact by roadway ice-melting chemicals. 
Corder said the mural paint is like a concrete slip that has pigment in it. 
"It almost becomes a second layer on the concrete that expands and contracts with that weather," she said. 
Corder said the artist, Rick Brown of Detroit, took a lot of cues from the DDA brand to incorporate into the mural. 
"They created all these symbols for connectivity and ingenuity and togetherness that really symbolize what Dearborn is and does in these areas," she said. "So, the artist took that and included that in his design." 
Corder said the design is reminiscent of textile patterns, as well.
"It almost feels like a living room rug that anybody could have in their home," she said. "So, it's kind of like a happy feeling, like we are all in this same space, like a living room and it is comforting that everybody will be able to come and appreciate it." 
The rain on Sept. 24 necessitated the rescheduling of the paint application to Sept. 27, which was dark and cloudy enough to have Corder casting worried glances at the sky. 
"This rain is really testing me this week, but it wouldn't be a project without setbacks," she said. "It's not as easy as just going and putting art up. Logistically, when it comes to moisture levels when you are painting on site, and wind can affect how you are painting. Those are the kind of things that you have to work around when you do this as a profession." 
Corder said it's a good feeling to see community members volunteer to create a project like the asphalt art mural. 
"It's multi-generational," she said. "They get to go home and tell their families and go to school and tell their friends what they did over the week, and it's a memory that they will have forever, and to be able to offer that opportunity is exciting." 
In addition to the street mural, the fourth electrical utility box in Wagner Place was designed and brightly painted by artist Brian Lacey of Detroit. The other three utility boxes were completed a year ago.
Brown, who has created murals on buildings in the past, said this is his first mural on a roadway, and his largest work to date. 
He said the asphalt art is roughly 4,100 square feet, or 172 feet by 24 feet.
Brown said the concrete paint they are using can be tinted, so their color choices are not limited. 
"As long as you have the specific paint and a white base, they can tint it," he said. 
Brown said the design is symmetrical and utilizes icons used for city branding. 
"I did my best to use some of the images that I thought best represented the community," he said. "I wanted to make a symmetrical design, otherwise it would be all over the place, and it was a little easier to map out."
Brown said he is happy to see the asphalt art finally come together. 
"Once you start placing the bigger shapes in, it really started pulling everything together," he said. 
Brown said he usually does smaller works of art in his studio, but it is fun to do larger projects every so often, and he enjoys working with student artists on projects as well. 
Emmajean Woodyard, executive director of the non-profit Dearborn Community Fund, said the total project budget was about $18,000, which included the design and painting of the final electrical utility box as well.  
She said the traffic-calming effect is the most important part of the project. 
"It will cause people to slow down a little bit when they see it, and if you are walking, you will take time, perhaps, to enjoy the art," Woodyard said. "The street murals have a lifetime of anywhere from 10 to 20 years, so, hopefully this one will be around for a long time. It's a large undertaking." 
She said that asphalt art is being done in a lot of communities. 
"We thought it would be really important to get the volunteers involved in this, for more community spirit, so, if Mother Nature will just hold off," Woodyard said, looking at the gray clouds overhead. 
She said they would like to do more murals around town, and said they are always looking for new spaces and new walls on which to paint murals. 
"If we can get that accomplished this year, we'll be happy," Woodyard said. "It takes a lot of teamwork, a lot of coordination, a lot of money and we try to do it as economically as possible."