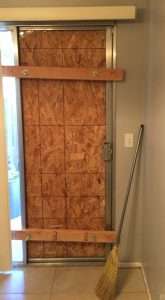 By SUE SUCHYTA
Times-Herald Newspapers
HEIGHTS — A burglar broke off the boards securing an apartment where a fire had occurred in a nearby unit, in the 26400 block of Westphal Street on Oct. 12, and stole a woman's computer, television, jewelry, shoes and liquor.
The victim, a 52-year-old woman, said she is living elsewhere until management clears the building and allow the tenants to reoccupy it. She said that on the morning of Oct. 12 she noticed that the wood boarding up her apartment door was loose, and when she came back several hours later, the board was down, and many of her valuables were missing from the apartment.
Among the items stolen were multiple bottles of bourbon whiskey, a 32-inch Samsung television, two pairs of Nike shoes, an Apple MacBook and $3,000 worth of jewelry.