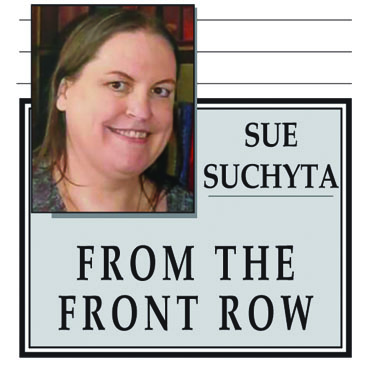 Children and the young at heart will have a chance to let their spirits soar as they enter the magical world of "Dragons and Mythical Beasts" at 2 p.m. Jan. 7 at Music Hall, 350 Madison Street in Detroit. 
The show, appropriate for ages 3 and older, features magnificent monsters and bewitching beasts, brought to life through the magic of puppetry and the brilliant imagination of the creators of "Dinosaur World Live." The new adventure comes to the United States from London's West End. 
The creatures are captivating, and include Haldor the Stone Troll, who is almost indestructible but slow, and Juno, a powerful, fire-breathing dragon with gigantic, venomous teeth. 
Shimmer the Unicorn has healing skills, but is easily startled by loud noises, while Shirdal the Griffin, who has sharp claws and a strong beak, is easily distracted by the luster of anything gold and shiny.  
The Baku is a creature who destroys nightmares, but who can damage dreams if not careful.
Aerwyn, the Tooth Fairy, who is strong and quick, is known for being temperamental, especially when teeth have been neglected. 
George, a Wyvern, is an intelligent creature with powerful jaws and legs, but without any teeth. 
The Indrik is another powerful creature, one which appears when an act of heroism is performed. 
"Dragons and Mythical Beasts" received the Best Show for Kids honors from the Entertainment Now Edinburgh Fringe Awards and was nominated for a 2022 Olivier Award for Best Family Entertainment. 
Tickets start at $29.50 and are available by phone at 800-982-2787, online at Ticketmaster.com and BroadwayInDetroit.com, and at the Fisher Theater box office, 3011 W. Grand Blvd. in Detroit. 
GO COMEDY! IMPROV THEATER OFFERS NEW YEAR'S EVE SPECIAL
Go Comedy! Improv Theater has a New Year's Eve special to ring in the new year, with two shows, one from 7:30 to 9:30 p.m. Dec. 31, and the other from 10 p.m. Dec. 31 to 1 a.m. Jan. 1, at 261 Nine Mile Road in Ferndale.  
The 2022 All-Star Showdowns feature hors d'oeuvres, drink specials and a champagne toast at midnight.
The All-Star Showdown is an interactive, improvised show that takes suggestions from the audience with the teams battling for laughs. It is similar to "Whose Line Is It Anyway." 
Proof of COVID vaccination will be required at the door, and a forehead temperature check will be performed. Guests must wear a mask when not eating or drinking. Each party will be seated at its own individual table. 
The cast includes: Chris Fortin, Doug Kolbicz, Keenan Mullaney, Anna Imesch Reid, Josh McDaniel, Devin Rosni and Ellen Stachowicz. 
For more information, go to gocomedy.net/calendar/nye/2022/12/31. 
HOLIDAY GIFTS AVAILABLE FROM THE PLAYERS GUILD OF DEARBORN
If your holiday gift buying is incomplete, why not consider a gift from a local theater? In addition to tickets, local venues have stocking stuffers and the chance to make a charitable donation. 
The Players Guild of Dearborn has magnets and ornaments featuring the Players Guild of Dearborn, made in partnership with the Dearborn Historical Museum, and created with a 3D printer and laser-cut wood for $20 each. PGD key chains, $5 each, are available in green, blue and black and let the user display their theatrical pride. 
To order, contact Amy Jones at [email protected] 
The Players Guild of Dearborn is in the midst of its "Raise the Roof" campaign to replace the theater's roof.  To donate, go to ci.ovationtix.com/35949/store/donations. 
If you'd like to give someone the gift of live theater, consider the Players Guild of Dearborn's upcoming musical, "Sister Act," which runs Jan. 13 to 15, 20 to 22 and 27 to 29 at the playhouse, 21730 Madison St., Dearborn. 
To order tickets, call 313-561-TKTS or go to playersguildofdearborn.org and click on the link provided.