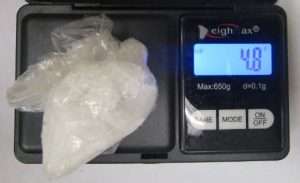 By SUE SUCHYTA
Sunday Times Newspapers
WYANDOTTE — A routine traffic stop for a minor violation resulted in the arrest of a 40-year-old Wyandotte woman for possession of crystal methamphetamines and driving with a suspended license the night of Dec. 15 in the 400 block of Emmons. 
During the traffic stop, the police officer detected several key indicators of possible narcotic possession, and subsequently found a 4.8-gram bag of crystal methamphetamine in her possession. 
Before he took her to the police station, the police officer dropped off the groceries in the vehicle at her Wyandotte residence for her husband to put away, which Deputy Police Chief Archie Hamilton said was a nice display of empathy. 
"Despite the violation of the law, the officer treated this woman like he would want to be treated if the roles were reversed," he said.