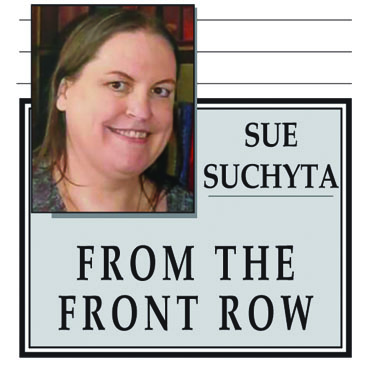 "Sister Act," the stage musical based on the movie, will fill the Players Guild of Dearborn with a joyful noise Jan. 13 to 29 at the theater, 21730 Madison in Dearborn.
The musical, with music by Allen Menken, lyrics by Glenn Slater and book by William Steinkellner and Cheri Steinkellner, is directed by Nancy Valentini of Livonia, with musical direction by Steve Woznicki of Royal Oak and choreography by Emma Garber of Dearborn.
When Deloris Van Cartier, a lounge singer, accidentally witnesses her gangster boyfriend execute a snitch, she flees to the police, who place her in a convent to protect her until she can testify at the trial.
Deloris, however, is not ready for the quiet life of the convent. She livens up the nuns' choir, which in turn draws donations and attention to the church, which puts her in an unwanted spotlight.
The cast includes Kaela Green as Deloris Van Cartier, Denise Kowaleski-Tucker as Mother Superior, Kenyada Davis as Lt. Eddie Souther, Branden R. Omoregie as Curtis Jackson, a gangster and nightclub owner, and Bill McCloskey as Monsignor O'Hara.
Also, Tony Primeau as Joey, Josh Beurer as T.J. and Kaeden Bryer as Pablo, Curtis' henchmen; Michael Parks as shooting victim Ernie; and Lia Stewart as Tina and Maura Donovan as Michelle, nightclub singers.
The nuns include Katie Fairgrieve as Sr. Mary Patrick, Molly Boudreau as Sr. Mary Robert, Leslie Garber as Sr. Mary Lazarus, Jeanine Katona as Sr. Mary Martin-of-tours and Linda Hagopian as Sr. Mary Theresa.
The ensemble includes Amanda Aue, Kori Bielaniec, Tim Carney, Patrick Davidson, Luke Dobert, Marjorie Gaber, Amy Jones, Odera Office, Anne Pastir, Frann Stempek, Mo Thomas, Isabella Valentini, Tessa Valentini, Kris Wright and Kristen Zylka.
Director Nancy Valentini said that she grew up attending Catholic schools, and when the movie "Sister Act" was released in 1992, she was delighted with the eclectic group of nuns that took Deloris into their midst, as well as the show's upbeat spin on hymns from her youth.
"While the storyline is the same, the music is all original," she said. "People from different worlds connect to teach each other and grow together, and audiences will be touched by the message of love and friendship while they are wowed by the singing, dancing and comedy that our cast delivers."
Music director Woznicki said he loves the 1970s and 1980s music in the show, especially the disco music.
"This show is filled with all kinds of dance-oriented songs that are as fun to play as they are to listen to," he said. "I enjoy seeing a show transform over the weeks from basically nothing to a finished product."
Woznicki said the show has strong vocals, memorable songs and a comedic storyline.
Choreographer Garber said the cast has brought dedication and a welcome energy to rehearsals, which is needed for the complex numbers and the multiple scene and costume changes.
"As a choreographer, I am always looking for new shows with a variety of dance numbers," she said. "'Sister Act' has that, and I am thankful to be a part of the production."
Garber said working with a large cast during a relatively short rehearsal period punctuated by a holiday ,was a challenge.
"I hope audiences feel the positive energy this cast has," she said. "They can look forward to an entertaining, hilarious and wonderful show."
Green, of Detroit, who performed in "Sister Act" as an ensemble nun with another group in the past, said she is excited to land her dream role of Deloris.
"Now that I am stepping into Deloris' shoes, I am realizing that while the story is ultimately about her journey, the nuns are the stars of this show, and I take any chance I can to let them have center stage," she said. "I am viewing the show from a different lens, and I love bringing Deloris to life and dancing and singing with my sisters."
Green said audiences will "have a blast."
"From the funny one-liners to the vocals and dancing, it is going to be hard to stay in their seats," she said.
Omoregie, of Farmington Hills, who played Lt. Eddie Souther in the past, switches to the other side of the law as Curtis Jackson, Deloris' mobster boyfriend.
"It is interesting that I am playing a bad guy now," he said. "I have always loved the musical, and saw it on Broadway."
Ensemble member Stempek, of Brownstown Township, said the show is complex, both musically and physically, with a well-meshed group of actors.
"The music and dance are fresh and fun, and I love being in the ensemble because there is always so much to do in the show."
Stempek said that, despite being one of the oldest cast members, the results of their hard work during rehearsals have been fulfilling.
"They will be seeing an awesome and different show," she said. "I think because the show is so fast-paced, people will be exhausted just watching it."
Hagopian, of Livonia, who plays Sr. Mary Theresa, said the musical is even better than the movie.
"The songs tell the story and are fantastically entertaining," she said. "Our audiences will be impressed with the musical numbers once they hear the harmony and see the fantastic costumes. Why knew nuns could be so flashy?"
Hagopian said it is fun to play Sr. Mary Theresa.
"She is the oldest nun in the convent, yet has enough spunk to take on one of the thugs during the chase scene," she said. "I love her honesty and spontaneity."
Primeau, of Riverview, who plays Joey, one of the thugs, said his mother and sisters introduced him to the movie and made him a fan.
He said it is fun to play a character who thinks he is a ladies' man, but who is really the opposite.
"It's been a fun challenge," he said. "I think audiences will enjoy the songs, dances, sets and costumes, and they'll be surprised because there are more songs than the movie and the added 1970s grooviness."
Beurer, of Allen Park, said his character, T.J., one of the thugs, provides comic relief.
"It's been so much fun to just let go and embrace his blissfully idiotic energy."
He said the stage version allows him to experience the story he loved as a movie in a new and exciting way, and he is enjoying working with the "awesome female energy" in the cast.
"Even though there were fewer parts on the table for men, I wanted to audition just for the chance to be a part of it all," he said.
Beurer said the show has the heart and humor of the movie with the added razzle dazzle of a Broadway spectacle.
"It's impossible to look at a nun singing and dancing to disco music without being immediately overcome with joy and happiness," he said. "So, if you are looking for a sure-fire way to kick off your new year on the right foot, let us take you to church!"
Thomas, of Redford Township, said the original story remains intact, but with some surprises added.
"It still has that 1970s soul vibe, and hits on all the high points of the original music numbers," she said. "The audience is going to love the whole thing from start to finish, I guarantee it."
Showtimes are 8 p.m. Jan. 13, 14, 20, 21, 27 and 28, with 2:30 p.m. Jan. 15, 22 and 29 matinees. Tickets are $22 and are available by calling 313-561-TKTS or online at playersguildofdearborn.org.