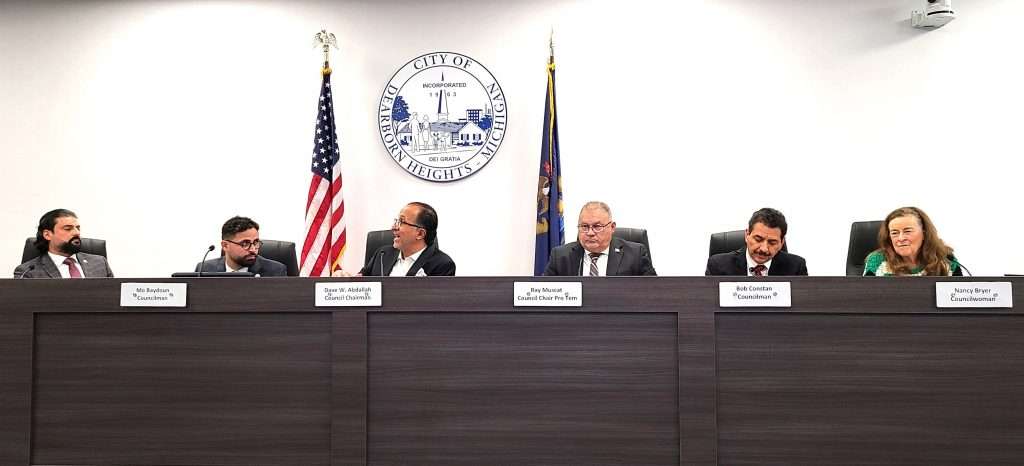 Commission plays a powerful role in rezoning and future project approval
By SUE SUCHYTA
Times-Herald Newspapers
HEIGHTS – The City Council declined Jan. 10 to consider the mayor's Planning Commission slate, asking for more information about appointees who would play an important role in the city's future development.
The nine-member Planning Commission reviews rezoning and special land use requests, site plans, zoning amendments and the city's master plan, and is often at the center of contentious debates about new development.
The commission recently approved plans for a car wash in a residential neighborhood on Ford Road near Beech Daly, on land formerly occupied by a church. A car wash request had been denied in the past by an earlier Planning Commission in the face of strong resident opposition.
Councilmember Bob Constan motioned to bring the mayor's Planning Commission appointees to the table, but there was no second by another council member, so it was not brought to the council for discussion and a vote, which was followed by applause by select residents attending the meeting.
Bazzi's nominees include Kenji Fujita, Jim Jomaa, Ali Berry, Dr. Ali Makki, Jill Myslinski, Hassan Saab and Lisa Farrens Oshanski, with a January 2026 term expiration. The city's website lists Fujita, Jomaa, Makki, Saab and Oshanski as current members of the commission.
Councilmember Ray Muscat said that until the City Council gets power restored to them on matters currently controlled by the Planning Commission, he will not approve the new slate of commissioners.
"I don't want to have anything to do with it," he said. "To me, council is the last resort," he said. "When things go bad, everybody points the finger at the council, the elected people, and we have to respond to the constituents of this city, and right now, we are not."
Muscat said the City Council has no control over what goes on in the city, and that all of his fellow council members are experiencing negative feedback from city residents about the recently approved car wash on Ford Road at Beech Daly, the site of a former church in a residential neighborhood, as well as on other issues.
"It is time the buck stops," he said. "We have to restore that back to city council. I don't know who changed it, or why they changed it, but special land use has to come back to council before I approve any appointments."
Council President Dave Abdallah said a past council study session on the topic is posted online, on the city's YouTube channel.
"If that is a direction that city council members want to move toward, then, honestly, we would have to do a new study session," he said.
Muscat said he thinks a motion should instead be brought to the next council meeting, which would empower the city corporation counsel to change the existing ordinance regarding the powers of the Planning Commission with respect to the City Council.
"I asked for our former corporation counsel to do it, and I did not have any resistance from council members," he said. "So, I am tired of the talking and the study sessions."
Abdallah said if every single Planning Commission decision has to come back to the city council for approval, he felt it would be problematic.
"It is going to dilute what powers they have," he said. "If we go in that direction, it would have to be with some sort of conditions as far as what items come back to council instead of all of them across the board."
Muscat said special land uses granted by the planning commission is a major concern.
"I'm sorry, but I have been to these meetings before," he said. "I have heard the arguments of pro and con. I don't think the engineer did his due diligence to look at the traffic flow at Ford Road and John Daly. It is horrible, it's going to get worse, and it is to the point where we'll make Ford Road in Canton look silly."
Muscat said it is bad enough that at 5 p.m. it takes 15 minutes to drive on Ford Road from Outer Drive to Telegraph, and another 15 minutes on Ford Road to get from Telegraph to Inkster Road.
"And heading east in the morning time, you better stay out of the right hand lane," he said. "Things are getting approved and getting changed and nobody knows why, so I am sticking to my guns on this."
City Attorney Roger Farinha cautioned Muscat to not speak about anything that pertains to ongoing litigation in which the city is involved.
Constan said that there are always competing interests in a big city, but procedure has land use issues going to experts, the site plan going to the city engineer and an architect addressing other issues.
"The alternative is the property doesn't get developed," he said. "Where the Heights shopping center sits, that was a drive-in theater and a camp years ago, before Lyle Van Houten was the mayor, and Borman Foods, that owned Farmer Jack, filed a lawsuit in circuit court, and they were able to get that property rezoned, and that is what brought us the Heights shopping center."
Constan said that there was a lot of residential input because it abutted residential properties.
He said berms were created, and storm water from the parking lot drains into a retention pond.
Muscat said the retention pond was added after basements in nearby houses were flooded from storm water runoff.
Constan said that his point was that the property generates 20 times the revenue for the city now than it did before it was developed.
"It is the best use of the property," he said. "When it comes to us, it is after it has been reviewed by experts with recommendations."
Constan said it is important that council members not be subject to requests by everyone who wants something, like a business person seeking a liquor license.
Councilmember Hassan Ahmad said that at least six members of the Planning Commission should be experienced with subject matter background, while at least two members should be representatives of the residents.
"I would like to see some criteria before we appoint somebody to any board in the city," he said.
Councilmember Mo Baydoun also asked that the council be given background information on commissioners they are asked to appoint.
"I am sure these individuals are very nice, and great people who want to put their best foot forward in the community, but I think, ultimately, the council should at least get a background of just who we are supporting," he said. "I know most of these people here on this Planning Commission, and they are all amazing individuals."
Resident Rachel LaPointe said she doesn't believe the city's planning commission represents all aspects of the community, including low income residents.
She also noted that members of the planning commission may not serve in any other municipal office, and that there is a distinction between elected and appointed positions.
"A municipal office would be any office in the city, because the Planning Commission is such an important commission, and it is the only paid commission," she said. "They should not be serving the city in any other way because that would be a major conflict of interest, in my opinion, as a resident."