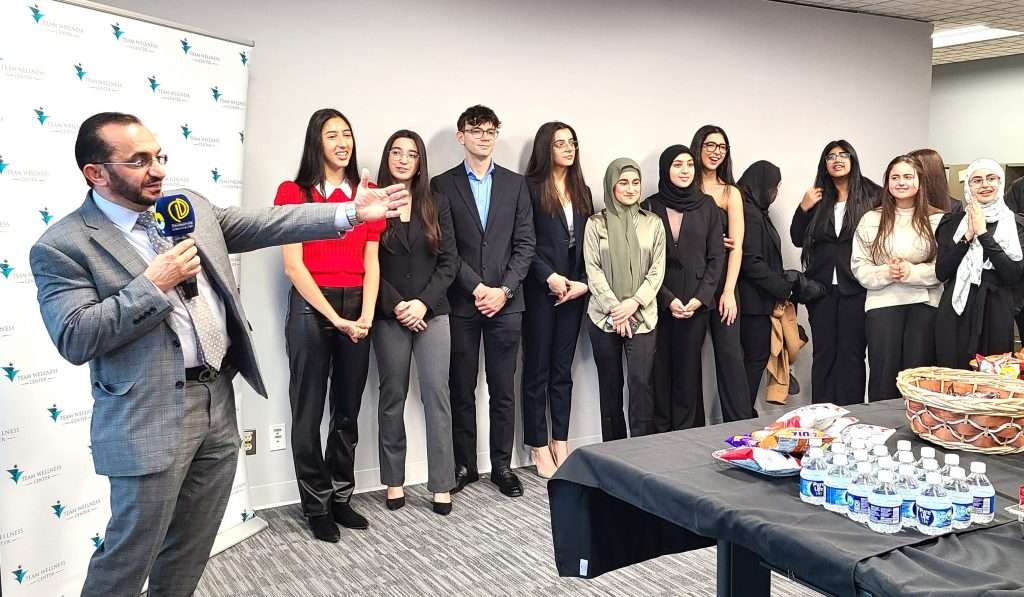 Experience teaches students how to work together on worldwide issues
By SUE SUCHYTA
Times-Herald Newspapers
DEARBORN – A local high school Model United Nations group received a $5,000 donation Jan. 23 to help them attend an upcoming international gathering of the organization at Harvard University in Cambridge, Mass. 
Dani Hourani, director of Community Development for the Team Wellness Center in Dearborn, presented a check to the students and advisor Bilal Hammoud during an afternoon presentation attended by well-wishers. 
Hourani said Team Wellness was proud to support their efforts, which he predicted will lead to their success in the future. 
"You guys are the future, and we are grateful to have this opportunity to support you," he said. "You are going to do great and you are going to make us proud." 
The high school level Model United Nations draws participants worldwide to meet in a forum to discuss global issues and to hone their skills in diplomacy, negotiation, critical thinking and compromise. The program also improves their public speaking, writing and research skills. They follow procedures similar to those used during actual United Nations meetings. 
This year's team is made up of students from five local high schools: Taylor Gabrielson and Areeba Nasir, sophomores from Annapolis High School in Dearborn Heights; seniors Sarah Chenade, Leen Moussa and Serena Saleh, and juniors Waard Dakhlallah, Batoul Mansour and Islam Nasser, from Crestwood High School in Dearborn Heights; Waleed Al-AwarNaime, a senior from Dearborn High School; Aya Bazzoun, a junior from Fordson High School in Dearborn; and juniors Jasmine Alawie and Hawraa Jouni and freshman Nooran Abou Kamar from Star International Academy in Dearborn Heights. 
Hammoud said he was pleased to see the community support the students. 
"I have watched them grow over the past two years," he said. "You guys have put your all into this club and the work behind it and so many firsts are happening, whether it is the first in southeast Michigan to go to the Harvard MUN or the youngest to go to MUN Harvard, and there is a lot to be proud of." 
Nasser and Moussa, currently the local group's president, helped form the chapter two years ago and broadened it to include students from Dearborn and Dearborn Heights. 
Nasser said Model United Nations allows students to pursue their passion. 
"A lot of these students are very, very passionate about diplomacy and political stances, and they really want to put their word into this," she said. "Seeing that come to life is really amazing." 
Moussa said that, unlike a debate club, where members just want to prove their point, the Model United Nations requires members to work together to pass a resolution with other people.
"You have to consider other people and their stance on the issue," she said. 
Nasser said at international conferences, like the upcoming gathering at Harvard, they will meet people from all over the world, who have different mindsets. 
"We need to have the ability to play devil's advocate, which is very hard," she said. "We are going to be Russia when we go to the conference."   
Saleh said being a part of the Model United Nations teaches one to be open-minded. 
"What we see from the news is very much one-sided," she said. "It forces you to look at different perspectives, look at different sources and analyze their credibility and you have to know how to use logic to your advantage."
Saleh said participation in Model United Nations is a learning experience as well. 
"Students here become stronger in debate and stronger in their research, but they also have a better outlook on the world," she said. "They know how to approach news, they know how to approach other people, and honestly, being able to work with other people and collaborate to make resolutions is one of the most important things.
"Our world needs more people who know how to work together, how to use logic and to make resolutions that better not just themselves but everybody else around them."