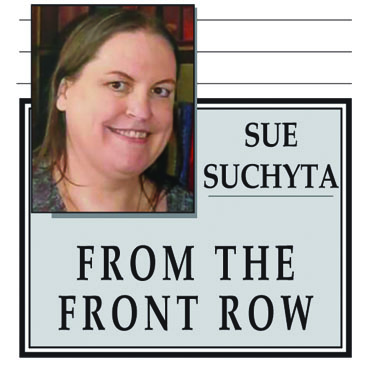 As Michigan reels from the recent gun violence at Michigan State University, the Ringwald opens a show that explores the pervasive culture of violence in the United States with the Tony Award-winning musical "Assassins" Feb. 24 through March 20 at the Ringwald Theater in Ferndale.
The show, with music and lyrics by Stephen Sondheim and book by John Weidman, is based on an original concept by Charles Gilbert Jr.
The story, framed against the backdrop of a sinister carnival game, focuses on assassins who tried – some successfully – to kill presidents of the United States, and how they represent the state of the country at the time of their assassination attempts.
The cast includes Joe Bailey as Samuel Byck, who attempted to kill President Richard Nixon; John DeMerell as Charles Guiteau, who killed President James Garfield; Phoenix Eldridge as James Hinckley, who attempted to kill President Ronald Reagan; and Leah Fox as Sara Jane Moore, who attempted to kill President Gerald Ford.
Also in the cast are Kyle Johnson as Giuseppe Zangara, who attempted to kill President Franklin Delano Roosevelt; Vince Kelly (March 3 to 20) and Marcus Laban (Feb. 24 to 27) as John Wilkes Booth, who killed President Abraham Lincoln; Jeffrey McMahon as Lee Harvey Oswald, who killed President John F. Kennedy and Allison Megroet as Lynette "Squeaky" Fromme, who attempted to kill President Gerald Ford.
Hannah Niece plays anarchist Emma Goldman and other roles, while Brandy Joe Plambeck plays Leon Czolgosz, who assassinated President William McKinley.
Rashna "Rashi" Sarwar plays the Balladeer, who narrates the show, while Dave Schoen plays the Proprietor, the gun salesman who supplies the assassins. Liz Schultz and Joey Urreta perform in the ensemble.
The show is directed by Matthew James Wallace, with musical direction by Diane Hill.
Wallace said his heart goes out to the victims and families impacted by the senseless violence at MSU.
"We must enact change, real change to end gun violence in our country," he said. "We are at a precipice, and we must hold our leaders and our communities accountable."
Wallace said speaking with a united voice is a powerful tool.
"We must stand together to say 'never again,' and do better for each other," he said.
Wallace said when he and Ringwald co-founder Joe Bailey discussed the direction they wanted to take with "Assassins," they keyed on how the characters relate to current events.
"The story explores many themes, including sensitive topics related to gun violence, sexism, racism, loneliness and cult behavior," he said. "I felt it was important to tell this story at this time to explore the cyclical nature of history, particularly within the American context."
Wallace said he faced two challenges in staging the show: setting it in a theater-in-the-round in a 60-seat house, and exploring the motives and underlying themes of the assassins.
"There are many moments within the script that look into the dark lives of these individuals using a lens of humanization," he said. "It can be tough to ride that fine line of humanization, without veering into explaining away or excusing actions or behaviors."
Wallace said he hopes audiences leave discussing what needs to be done to break the cycle of violence that is unique to the United States.
"How have we let this go on as long as it has?" he said. "What is the path forward?"
Wallace said the show looks at the history of violence and aggression in our country, and how the mindsets of some of the assassins are still prevalent today.
"Not only are plenty of the ideas and thought processes showcased by the assassins still mainstream within American culture, many of the threats and acts of violence portrayed within the script continue to take place on a day-to-day basis," he said.
Wallace said the country needs to look at our current society in terms of both where we have been and where we are going.
"Each sunrise is a chance to do good for the sake of one another, to make a positive change for a new tomorrow," he said. "It's a matter of what we choose to do with that time that makes all the difference."
Fox said it has been challenging to discover her character Sara Jane Moore's point of view, since she is so different from herself.
"Many of the things she does and the way she treats people are the opposite of what I try to do in my actual life," she said.
Fox said the show has smart scene writing with complex, interesting music.
"Sadly, it's a show that's always relevant," she said. "It's a chilling look at what we've called 'The American Dream,' but I promise you will laugh."
DeMerell said it is challenging to play assassin Guiteau, a self-centered narcissist who thinks he can do no wrong.
He said it is important to remember that there is always more than one side to a story.
"In our new world of social media and broadcast news platforms, you are sometimes forced to see an edited version of one side and not the other and ultimately, one view is 'good' and the other 'bad,'" DeMerell said.
He said social media can have a devastating impact on a person's feelings of inadequacy while fostering feelings of loneliness.
"This is how most, if not all the assassins in our story felt as they took devastating action and caused irreparable harm upon our society," DeMerell said. "Violence is never the answer."
He said he was drawn to the show because it offered a chance to perform the music of Stephen Sondheim, who died 15 months ago.
"The performing arts world lost one of its great luminaries in 2021," DeMerell said. "Come and remember, or experience for the first time, the amazing world of Stephen Sondheim."
Megroet said she is also a devotee of Sondheim's music.
"Come hear people sing notes that shouldn't belong next to each other, yet sound amazing," she said.
Megroet said that playing Fromme, an actual person, has been a challenge.
"The script lends itself to a more one-dimensional bratty villain portrayal, but researching her, I'm finding that wasn't her disposition," she said. "I want to show her vulnerability and her impressionability, which played a part in the dark path she took."
Megroet said the show leaves audiences with much to ponder.
"This show is a stark reminder that viewing these people as inhuman monsters ignores that humanity has this darker, ugly, desperate side," she said.
Tickets for "Assassins" are $30 for the Friday through Sunday shows and $20 for the Monday performances, and are available at Ringwald.com. The Ringwald is a cashless venue, but credit cards will be accepted at the door.
Show times are 8 p.m. Feb. 24, 25 and 27 and March 3, 4, 6, 10, 11, 13, 17, 18 and 20, with 3 p.m. Feb. 26 and March 5, 12 and 19 matinees.
The Ringwald Theater located inside Affirmations Community Center, 290 W. 9 Mile Road in Ferndale.