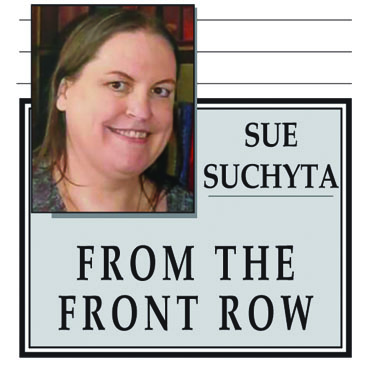 Two shows with strong female protagonists – Steven Dietz's "Becky's New Car" at the Players Guild of Dearborn and Sarah Ruhl's "To Peter Pan on Her 70th Birthday" will warm up local stages during winter's lingering days.
'BECKY'S NEW CAR' AT THE PLAYERS GUILD OF DEARBORN
"Becky's New Car" follows a middle-aged woman in a middle-management job with a middling marriage who suddenly has change thrust upon her in the form of a socially-inept and grief-stricken millionaire who stumbles into the car dealership where she works, who offers her a shot at a new life.
The show, a comedy with serious overtones, has been described as "a devious and delightful romp down the road not taken."
Directed by Bonnie Holmes of Saint Clair Shores, the cast includes Julie Ballantyne Brown of Dearborn as Becky Foster, Patrick Davidson of Livonia as Joe Foster, Casey Coulter of Dearborn Heights as Chris Foster, Tom Varitek of Dexter as Walter Flood, Aliahna Mesahn of Taylor as Kensington "Kenni" Hermoine Flood, Matt Ripper of Livonia as Steve and Betty Berryman of Canton Township as Ginger.
Brown said the cast has bonded during the rehearsal process.
"Our director had us do quite a lot of background work on our characters and their relationship to other characters, which I think really helped us understand their motivations and choices," she said.
Davidson said delving into each character's back-story has been fun and challenging.
"I feel like it has allowed us a whole new level of character interaction on stage," he said.
Varitek said the collaborative effort has made the ensemble closer as a group, with positive results, which is paying dividend on stage.
Holmes said that when an opportunity arose to direct "Becky's New Car," she jumped at the opportunity.
"I love that the show puts a strong female at the focus and explores the desperate things we will do when we are faced with tough decisions," she said. "I also love that it is a show that takes pain and loss seriously, not forcing a happy ending, but also allows you to laugh at the absurdity of how desperation and loss affects us as people."
Brown said she loves that Becky is a character to which people can relate.
"I read the script back when the season was announced and fell in love with it," she said. "Even if people wouldn't make the same choices that she does, they can understand where it comes from. She's a real person."
Coulter said he loves comedies, and can identify with his character, a young adult living with his parents.
Varitek was drawn to "the inventive, touching and hysterical script," which Davidson said is filled with "hilarious one-liners."
Mesahn, who stepped away from theater during the pandemic, said the show was a good way for her to return to the stage.
"The idea of a small role in a light-hearted comedy really sounded like my perfect segue back into the acting world," she said.
The show, which breaks the fourth wall, involves the audience more intimately in the show than typically occurs.
Holmes said "Becky's New Car" surprises audiences.
"Shows that directly get the audience involved in the storytelling are pretty rare," she said. "I love the randomness of being in a room full of strangers to experience something, and I think 'Becky's New Car' does this even better than your typical show."
Coulter said the play is designed to flow as economically as possible, with no scene changes.
"Each moment moves fluidly from one to the next, with little time for the audience or Becky to breathe," he said.
Brown said Becky, the protagonist, is complicated and not completely likable, but is definitely interesting.
"She doesn't set out to make bad choices," she said. "It's a subtle fall from grace that I don't think she even realizes until it's too late."
Davidson said audiences will definitely relate to the characters.
"Audience members will be able to feel what the characters are going through," he said. "At the same time, the pace of the show and the overall plot lend itself to alternating moments of heartache and roaring laughter."
Berryman said she hopes audiences will enjoy both the storyline and the characters.
"I hope they will be touched by it," she said.
Ripper said each character has felt the sting of loss and seeks to move forward in some way.
"The characters show the potential impact of love's loss and the layers and stages it might take to process trauma," he said.
Varitek said the story balances hurt and humor.
"This show is just the right balance of heartwarmingly touching and outrageously funny," he said.
Holmes said she hopes audiences will enjoy a show that is thought-provoking and humorous.
"We're giving them a night where they can let loose and laugh, while at the same time making them think a bit," she said. "Just when you think you know how it'll pan out, the show turns a corner you weren't expecting."
The show runs 8 p.m. March 10, 11, 17, 18, 24 and 25, with 2:30 p.m. March 12, 19 and 26 matinees at the theater, 21730 Madison St. in Dearborn.
Tickets are $20, and are available by calling 313-561-TKTS or online at playersguildofdearborn.org.
'TO PETER PAN ON HER 70TH BIRTHDAY' AT TRENTON'S OPEN BOOK THEATRE COMPANY
In "For Peter Pan on Her 70th Birthday," director Krista Schafer said playwright Sarah Ruhl, whose shows blend reality and fantasy, uses the backdrop of the story of Peter Pan to explore how people approach aging and death.
In the Open Book Theatre Company's production, which runs March 17 to April 16, Ann, who fondly remembers playing the part of Peter Pan 50 years earlier, comes together with her siblings for her birthday celebration, which also draws them into a discussion about the inevitability of growing old.
"She does this so beautifully when she uses the story of Peter Pan to look at aging and death," Schafer said. "The boy who never grows up never has to face these things."
She said the play explores the questions of what happens after we die, whether one is remembered, the purpose of life and whether there is a God.
Schaefer said with the interaction of the story's five siblings, the audience hears many different points of view.
"There may not be any answers, but there is peace and joy," she said. "There are fears dispelled by the love and even the conflict that family brings."
Schafer said the show concludes with a trip to Neverland, with the adult siblings playing the characters in the Peter Pan story.
"One of the challenges of this play is to keep the characters really grounded in truth and reality, while really reveling in the fantasy and magic," she said. "I think audiences will really enjoy the journey. I know we are enjoying it in rehearsal."
The cast includes Linda Rabin Hammell as Ann, Phil Hughes as Jim, Sean Paraventi as Michael, Kez Settle as Wendy and Robert Schorr as John, with Nick Szczerba as George, their father.
Hammell said the play uses the different characters to share different responses to aging with the audience.
"Some are poignant; a lot are downright funny," she said. "The play's relevance comes strongly home to me in my character Ann's line, paraphrased, 'If a family that loves each other can't argue in a civilized fashion, how can people at large even speak to each other at all."
Hughes said the show has a positive message about the importance of family, even when its members have strong differences of opinion.
"That a family exists to support each other and learn from each other is an ideal to embrace," he said.
Hughes said the show is a strong ensemble piece, with the dialogue overlapping and mimicking the rhythm of how families talk, as well as capturing the familiarity with which they treat each other.
"As we age and life moves faster, it is easy to forget about the importance of family," he said. "Everyone grows up, but there is comfort in the ability to accept aging and the unique gifts it brings."
Paraventi said each of us, like the five siblings in the play, have different ideas about what it means to be a grown-up or to feel grown up.
"'Peter Pan on Her 70th Birthday' explores this theme, and many more of life's major themes, in a thoughtful and heartfelt way," he said.
Settle said the show has much to say about life and what really matters.
"We get so focused on the 'noise' of life that we sometimes forget it is the relationships we made and the legacy we leave behind that really matters," she said. "Death is a part of life, and as long as there are people who love us, we never truly die. We carry on through those relationships and the lives we touched along the way."
Settle said the challenge of taking something heavy and finding the whimsy and playful elements of it excites her.
"Life isn't a straight line and can be hard, but it is also magical and transformative," she said. "And death isn't something to be fear, but embraced."
Settle said it has been fun to find the family dynamic within the cast, and to reconnect with her own inner child.
"It is a treat to come and play with them every night," she said. "As we grow into a family, onstage and off, it's magical."
Settle said the show deals with many common themes.
"This play is important because it deals with subjects we can all relate to – the loss of a loved one, as well as our own mortality," she said.
Szczerba said the play is also timely with respect to the current political climate in the country.
"We live in a time when our beliefs separate us from the ones we love, even in our own families," he said.
Performances are 8 p.m. March 17, 18, 24, 25 and 31, and April 1, 7, 8, and 13 to 15, with 2 p.m. March 19 and 26 and April 2, 9 and 16 matinees, at the theater, 1621 West Road in Trenton.
Opening night tickets are $35 with an afterglow. Other performances are $35 for general admission, with $25 tickets for seniors and $15 tickets for students. To order, call 734-288-7753 or go to openbooktheatrecompany.net.