Judging My Worth by the Seat of My Pants
By SUE SUCHYTA
Sunday Times Newspapers
WYANDOTTE – Recycled diet books offer a unique media for artist and "fat feminist activist" Brenda Oelbaum of Dexter, who hopes to raise awareness about eating disorders at the River's Edge Gallery. 
She fashions the donated diet books – of which there are plenty – into sculptures, which she uses to raise awareness as part of her "Judging My Worth by the Seat of My Pants: The Venus of Willendorf Project," which are on display on the second level of the gallery through the end of March. 
On March 4, she was joined by registered dietician Mary Balog of Ann Arbor, who takes a distinctively different approach to food and people's relationship to it. 
Oelbaum said she started her current project two decades ago when she saw a commercial that used The Venus of Willendorf to say "you don't want to look like this."
"I couldn't believe that they used such an important feminist icon from history to put women down," she said. "So, I decided I wanted to take back the Venus image as beauty and take apart the diet industry."
Oelbaum said dieting, not overeating, has caused her to gain wait. 
"Early on, in the feminist art movement, it was taboo for women to use goddess imagery," she said. "There is sort of a snobbery around what is good art."
Oelbaum said it is important for people to understand that "the personal is political" in art. 
"We are speaking for you in a way that people understand," she said. 
Oelbaum said she hopes to engage with people and send them away thinking. She said women need to stop judging themselves based on what sizes fit them. 
"It starts conversations and there have been a lot of tears," she said. "People don't see art that talks about their secrets."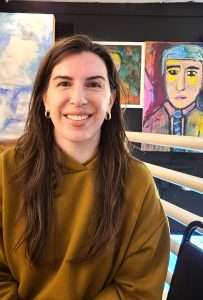 Balog, who was taking an active role opening weekend at Oelbaum's exhibit, said she considers herself a non-diet dietician. 
"I work with folks using a non-diet approach, which means I don't typically recommend restricted diets in any way," she said. "I help them find a way to improve their relationship to food and their relationship to body," she said. "I have a background in food systems, so I help them build a relationship to their community as well."
Balog said it seems counterculture to the way that many people tend to think about food, because they often think about it in very black-and-white ways.
"We are taught that there are good foods, there are bad foods, that I am the dietician that is supposed to tell you what to eat and what not to eat," she said. "But eating is much more complex, and I focus a lot on how we eat, where we eat, why we eat and who we eat with."
For more information about the gallery, go to artattheedge.com. For more information about Oelbaum's work, go to brendaoart.com. To learn more about Balog, go to marybalogrdn.com.