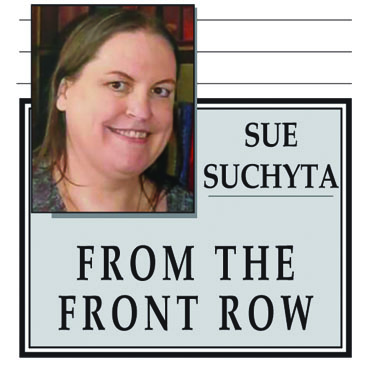 Wayne State University will launch its first musical theater performance at the new Gateway Theater, 4715 Cass Ave. in Detroit, in the shadow of the historic Hilberry Theater, with an April 7 to 16 run of "Cabaret."
The Tony Award-winning Kander and Ebb musical, which opened on Broadway in 1966, is set in 1929-30 Berlin when the jazz age was ending and the Nazis were first coming to power, seen through the eyes of an American writer who falls in love with an English cabaret performer. A secondary story follows a boarding house owner whose romance with a fruit store owner is threatened because he is Jewish.
As the Master of Ceremonies at the Kit Kat Club greets guests over the course of the show, the nightclub mirrors the moral decay and political darkness into which Germany is descending. The musical also reflects contemporary attempts to repress gender expression amid the rise of fascist ideology worldwide.
"Cabaret" is based on the writings of English author Christopher Isherwood, whose writing centered on his experiences in 1933 Berlin during the Nazis rise to power, as he described the vibrant, unrivaled queer culture of the nightclub underworld of the Weimar Republic.
Director Michael Barnes, interim chair of the Maggie Allessee Department of Theatre and Dance, said "Cabaret" has resonated with him since he first saw it when he was in his 20s.
"I longed to play the Emcee at some point," he said. "Directing the show affords me greater creative expression in exploring the show than I ever could as an actor."
Barnes said "Cabaret" has often been cited as the first concept musical, which means its message supersedes the story.
"'Cabaret' points to what can happen when social apathy allows a single ideology to spin into a driving force of nationalism that ultimately leads to fascism," he said. "In 1930s Germany, this took place by pointing to the Jews as 'the other' and stated that they were a danger to the majority social group's way of life."
Barnes said similar events are occurring in the United States and around the world today.
"The finger is being pointed at immigrants, different races, religions, sexual orientation or gender identity," he said. "If we as a society feel that these things do not affect us and turn our backs on it, history will repeat itself and we will see another Hitler or Mussolini arise in our midst."
Barnes said he hopes audiences recognize the show's parallels with current ideological trends.
"I hope audiences make a choice to keep their eyes open and not be afraid of speaking out against social injustice," he said.
Barnes said opening in an entirely new theater complexes has had its challenges as well.
"The design process of this show was happening before the space was finished," he said. "Scenery and lighting were designed for a space in which no one had worked."
Barnes said that as a director at the university level, it is gratifying to see the actors' improvement during the rehearsal process.
"When directing professionally, the actors often come in with so much more of the character developed," he said. "In educational settings I get to be a part of our students' growth in their craft and see them artistically blossom."
The show runs 8 p.m. April 7, 8, 14 and 15, 7 p.m. April 13, 2 p.m. April 8, 12 and 15 and 3 p.m. April 16 in the new Hilberry Gateway Theater.
Tickets are $22 for general admission, $15 for students and $18 for seniors and Wayne State alumni, faculty and staff. To order, call 313-577-2972 or go to theatreanddance.wayne.edu/2022-2023/cabaret.