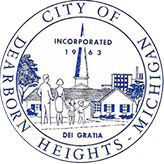 Residents may provide comments regarding project and funding
HEIGHTS  – The city will host a public hearing regarding its plans to execute its state-mandated sewer separation project, along with plans to fund the project via the Michigan Department of Environment, Great Lakes & Energy Clean Water State Revolving Fund. The hearing will take place at 6 p.m. April 24 at City Hall, 6045 Fenton St.
Zoom access will be available here. Input may be submitted via Zoom.
When completed, the estimated $5.5 million fiscal year 2024 project will fully separate the city's sanitary and storm water sewer facilities via construction of new sewer pipes in selected areas of the city, ensuring raw sewerage will no longer be able to flow into the stormwater system and eventually into local waterways. Currently, there are still a handful of areas throughout the city whose sanitary and stormwater sewer lines are combined. 
While the city is mandated to complete this initiative, it must still seek out the most economical means to fund it. One resource, the Clean Water State Revolving Fund, would provide a low-cost loan and offer up to a 50 percent funding match if approved. The loans are offered statewide on a competitive basis, with Dearborn Heights being one of over 250 communities applying for assistance. (To date, over $2.2 billion has been requested from interested communities.)
While competitive, officials are optimistic that the city will be successful in its attempt to secure these funds based on the response it has received following the submission of its Pre-Application Intent to Apply form.
"This is an incredibly important improvement we need to implement" Mayor Bill Bazzi said. "It is unacceptable that after so many years, there are still areas of our community where raw sewage is allowed to run into our stormwater system, and find its way to our waterways. For the sake of our environment and our residents' health, we must take on this project and bring it to a successful completion."