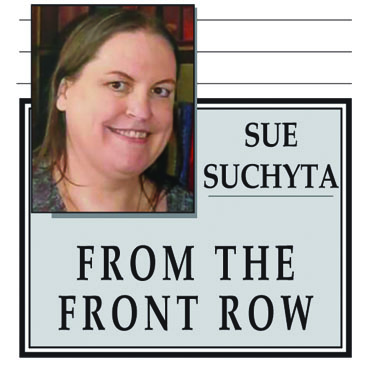 The extremes of weather may not always be welcome, but the Downriver Youth Performing Arts Center's production of "Singing in the Rain" will offer the lighter side of April showers Downriver, while in Midtown, Wayne State University offers "She Kills Monsters" and "Marcus; or The Secret of Sweet," which is set in the shadow of a hurricane.
DYPAC PRESENTS 'SINGING IN THE RAIN' AT THE TRENTON VILLAGE THEATER
While most of us in Michigan take cover during April showers, we can also conjure images of Gene Kelly dancing through puddles in the classic weather dance routine from the movie "Singing in the Rain," which DYPAC brings to the stage April 14 to 22 at the Trenton Village Theater. 
Director Mary Zaleski said "Singing in the Rain" is one of her favorite musicals, which she directed in 2008 for DYPAC.
"We had such a good time doing it, I wanted to introduce a whole new age of teens to this fun-filled show and all of its beautiful music," she said. 
Zaleski said making it rain on stage and teaching the cast the tap numbers provided the show's biggest challenges. 
"Thankfully, I have an amazing technical crew, headed by Dave Overholt, that created everything we needed," she said. "The tap numbers were choreographed by Nina Nelson, and the cast, many who had limited tap knowledge, stepped up to the challenge." 
Zaleski said she enjoyed watching her cast bring the show to life with "excitement, energy and joy" as they mastered the music and learned about the 1920s and silent movies. 
"It truly does take a village to put together a show of this size, and I had an amazing group of parents and staff who have given so much of their precious free time to this enormous project," she said. 
Cast member Caleb Litten of Riverview, who plays Cosmo Brown, said he is serious and reserved, so it was a challenge to develop into an energetic, fun-loving character. 
"It has been difficult to loosen up and just have fun playing around, but my favorite part has been playing my role alongside my best friend, Tyler, as Don," he said. "We have performed together since we were 8, and we get to play around on stage like we did when we were kids, and that has, without a doubt, been my favorite part."
Tyler Zolynsky of Riverview, who plays Don Lockwood, agreed that the people in the cast made the experience fun, while learning to tap was his biggest challenge. 
"DYPAC has the best people, and being able to work on this production has been nothing short of a blast," he said. 
Zolynsky said audiences will enjoy the show. 
"I hope they go home with smiles and a bunch of tunes stuck in their heads," he said. 
MacKenna Tocco of Gibraltar, who plays Kathy Selden, said she loves the tap numbers in the show. 
"Tap dancing and singing is so difficult, and I love how much our amazing choreographer, Nina Nelson, has challenged us all," she said. "We had the best time rehearsing everything."
Tocco said the special effects, including the onstage rain, will impress audiences as well. 
Others in the cast include Matthew Bond, Isaac Clark, Alexandra Czata, Genevieve Dassow, Lily Digna, Lyric Fountain, Violet Gates and Ava Giese. 
Also in the cast are Gabby Gower, Liv Harrison, Amelia Hachenski, Finn Jamison, Reagan Lewis, Nina Lomas, Jennah McWhorther and Antonella Menna. 
Also in the show are Samantha Plunkett, Dimitria Powell, Noah Rodriguez, Kira Saiti, Marisa Siakantaris, Ava Sturgill, Hudson Veltman, and Parker and Sawyer Watson.
Show times are 7 p.m. April 14, 15, 21 and 22, with a 2 p.m. April 16 matinee at the Trenton Village Theater, 2447 W. Jefferson Ave. Preferred seating closer to the stage is $18, while other seats are $16 for adults and $14 for students and seniors. To order, go to dypac.com. 
WSU PRESENTS 'SHE KILLS MONSTERS'
Theatre and Dance at Wayne presents Qui Nguyen's "She Kills Monsters" April 14 and 15 in the Allesee Dance Theater on the third floor of 480 W. Hancock St. in Detroit. 
The drama-comedy follows the journey of a young woman who, after losing her parents and sister in a car accident, embarks on her late sister's Dungeons and Dragons module to discover a side of her sister she never knew. 
The scenes alternate between the real world and a fantasy game world as the young woman learns more about herself during the journey. 
Showtimes are 8 p.m. April 14 and 15, with a 2 p.m. April 15 matinee. Tickets are $17 and are available at the WSU box office, by calling 313-577-2972 or online at wsushows.com. 
WSU PRESENTS 'MARCUS; OR THE SECRET OF SWEET'
Theatre and Dance at Wayne presents Tarell Alvin McCraney's "Marcus; or The Secret of Sweet" April 14 to 23 at the Hilberry Gateway Studio Theater in Detroit. 
Set in the summer of 2005, just days before Hurricane Katrina struck the southern United States, 16-year-old Marcus, who lives in a Louisiana housing project, is searching for his identity and trying to understand his family and community while an ominous storm approaches. 
The story is a provocative, poignant and humorous coming-of-age story of a young gay man in the South and is the final play in McCraney's three Brother/Sister series. 
Showtimes are 8 p.m. April 14, 15, 21 and 22; 7 p.m. April 20; 2 p.m. April 15, 19 and 22, and 3 p.m. April 23 at the Gateway Studio Theater, 4715 Cass Ave. 
Tickets are $22 for general admission, $18 for WSU alumni, faculty and staff, and $15 for students. To order, go to the Wayne State box office, call 313-577-2972 or go to wsushows.com. Please note that the show contains mature subject matter.