Crowd urges council to pass zoning and business ordinances beneficial to shops 
By SUE SUCHYTA
Sunday Times Newspapers
TAYLOR – Residents packed the City Council chamber April 4 for the first reading of zoning and recreational marijuana commercial business ordinances which some feared would prevent city pot shops from opening. 
Residents carryied signs that said "respect our yes vote" and "our yes vote matters," which referred to the city ballot question Nov. 8 which affirmatively opened the door to recreational marijuana sales within the city, but which still allowed the City Council to restrict the placement of stores through zoning in a manner which would close most locations to the businesses, and permit only one or two shops to open. 
The first readings for the currently worded ordinances on April 4 allowed for discussion among council members and provided a forum for public comment. It also created an opportunity to adjust the wording of the ordinances to better meet the desired objective. 
The wording for the first reading allowed for recreational marijuana establishments in industrial areas only and stated that the shops must be 2,500 feet from places of worship, schools, parks, daycares,  libraries and from other recreational marijuana businesses. 
After extensive discussion, when it appeared that the regulations would prohibit most business locations, it was proposed that the wording be changed to allow establishments to be a closer distance to railroad tracks and an interstate, which would presumably open up more possible sites. 
The next round of revised wording, and its zoning impact, is expected to be presented at the April 18 council meeting.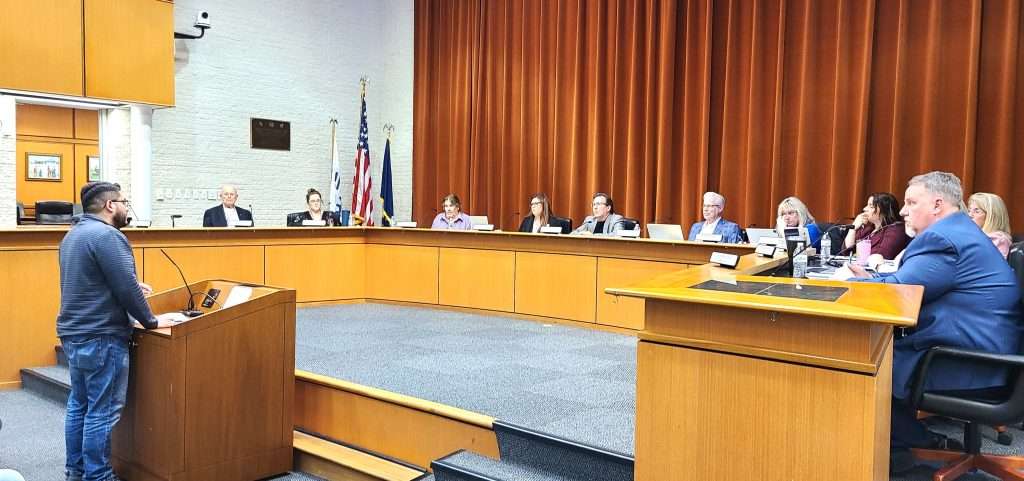 Former state Rep. Alex Garza addressed the council, stating that he spoke for the 56 percent of the residents who voted in favor of allowing recreational marijuana businesses in the city last November. 
He said he was concerned after the first readings of the proposed zoning and business ordinances were not passed by the council at its March 21 meeting.
"I knew it was time to get involved to advocate to protect the voters of this city, the 56 percent of the voters that overwhelmingly said yes to the recreational marijuana ordinance in November 2022," Garza said. 
He said the original ballot language that the residents proposed did not reflect the 2,500-foot buffer. 
Garza said the council was led by the city's corporate counsel to believe that the city-led ballot initiative was invalid, after which the council came up with its own proposal, which added the 2,500-foot buffer without confirming whether it would permit any eligible parcels for recreational marijuana businesses. 
"This city counsel added a provision to the ballot proposal that is being called illegal because of there not being any conforming parcels in this city," he said. "However, it is incumbent upon our city council to act for the will of the voters, and it is allowable for this council to do what is necessary to meet the spirit of that ballot proposal. Council must work to meet what the voters intended by their yes vote."