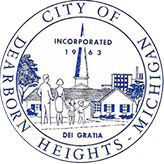 HEIGHTS — Wayne County commissioners approved a $10 million, two-year project designed to ease flooding in Dearborn Heights and other nearby communities.
Commissioners on April 20 approved money from the county's share of American Rescue Plan Act revenue for drain improvements in the North Branch Ecorse Creek Drain Drainage District.
The district serves Dearborn Heights, Allen Park, Ecorse, Inkster, Lincoln Park, Melvindale, Romulus, Taylor and Westland. It covers an estimated 52,400 properties over an area of roughly 30 square miles.
Homeowners in portions of Dearborn Heights, in particular, have suffered heavy damage from recent floods as floodwater has filled their basements.
"This $10 million investment will have a positive impact on the residents of Dearborn Heights and the surrounding communities," Commissioner David Knezek (D-Dearborn Heights) said. "While this is a major step forward, we know there is more work to do. I'm committed to working alongside local, county, state and federal leaders to ensure new investments are made toward Ecorse Creek."
The project will include tree clearing, removal of log jams, sediment and other drain obstructions and stabilizing eroding creek banks, among additional projects.
Wayne County has received $339.7 million in federal dollars through ARPA.