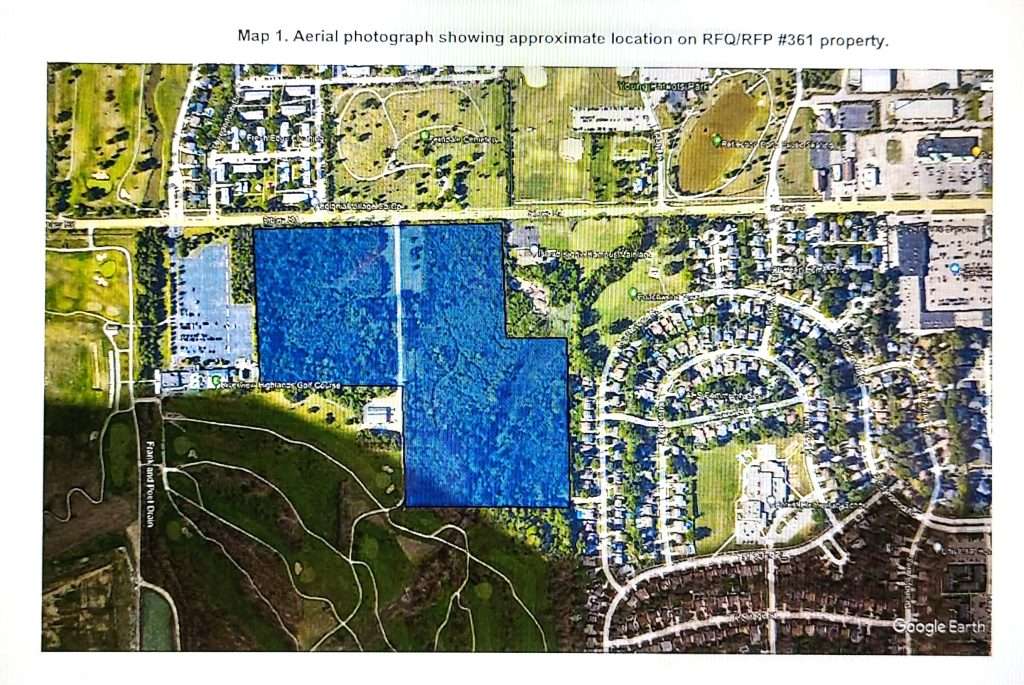 By SUE SUCHYTA
Sunday Times Newspapers
RIVERVIEW – The City Council agreed to solicit proposal requests for the sale and development of 40 acres of Riverview Highlands golf course along Sibley Road during its May 8 study session.  
The intended development would be either mixed residential, commercial or office usage, with a maximum height of three stories. 
The city will facilitate the rezoning process for the 40.69-acre site with a use-restrictive covenant for the chosen proposal. Proposals for marijuana businesses or establishments will not be considered.  
The land has access to and is south of Sibley Road, and is surrounded by the city-owned golf course and clubhouse and the privately-owned banquet center. It is also adjacent to the Colonial Village Cooperative Housing, Ferndale Cemetery and Young Patriots Park on the north side of Sibley Road, and to a dentist office, daycare center, Coachwood Park and the Riverview Forest subdivision on the east. 
Huntington Drain cuts through the east side of the site. 
Proposals are due by 4 p.m. June 29 to the City of Riverview Purchasing Department. 
Any proposal is subject to the approval of at least five members of the City Council. 
The minimum purchase price for the property is $1 million, with the property sold "as is." The property's tax-exempt status as a municipal entity will end upon its sale. 
If the developer fails to develop the property as planned and approved, the city may exercise its option to repurchase the site at 80 percent of its original purchase price. The site plan review process must begin within one year of the conditional rezoning approval, and construction must begin within two years of the site plan or special use approval. 
Developments may be for condominiums, single family homes or multiple family dwellings; mixed used buildings with upper story residences; retail and services of use to surrounding residents; and parks, plazas, recreational facilities and trail connections that would support nearby residents.