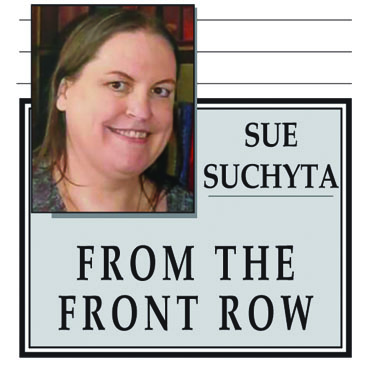 Whether you enjoy improv or a quick, light-hearted comedy, Trenton's Open Book Theatre Company is returning with its popular Driveway Theatre offerings this summer. 
Available to come to an outdoor location of your choice are Jennifer Ward's 30-minute play "Driveway Dating" and "Off Book Improv," a show which uses input from the audience to make up material on-the-spot. 
"Driveway Dating" will be booking performances weekends July 7 to Aug. 27, while the Improv troupe is available weekends from June through the end of August. 
There are two payment options: A $150 flat fee in the Downriver area with a "pass-the-bucket" option after the show, or a $500 fee for the show, after which no donations are solicited. Performances outside of the Downriver area require additional fees. 
Artistic director Krista Schafer said Driveway Theatre brings original 30-minute shows to people where they live, work and play, and are fun and fast-paced. 
"We've performed for church gatherings, birthday parties, senior centers and more, in driveways, backyards and parking lots," she said. "Each year we commission playwrights to write shows that speak to our communities now."
In "Driveway Dating," Dana is dating in her driveway. She finds it challenging to find matches she enjoys, so she invites potential partners to her driveway café, which inevitably draws her neighbors into her search for the perfect match. When Mike seems to be a promising candidate, both she and her neighbors hope for the best. 
The show, which is appropriate for all ages, is directed by Shelby Seeley and features Vicki Morgan as Dana and Tim Pollock as Mike. 
"Off Book Improv," led by Sean Paraventi, uses input from the audience to make up material on the spot. It also uses willing volunteers from the audience who want to join in on the fun. 
Schafer said the show is great for celebrations likes birthdays and anniversaries. 
"Improv is sure to be fun for any gathering," she said. 
Driveway Theatre performances simply require a clear, flat, outdoor area, such as driveways, yards, parking lots and park pavilions. The performance space itself needs to be 16 by 20 feet. Attendees provide their own chairs or blankets. 
The performers do not wear microphones, and while they know how to project, ambient noise at the location might impact the audio aspect. 
Light rain will not cause a performance to be canceled, but heavy rain or a lightning storm will result in a rescheduled show. 
"We can't control the weather," Schafer said, with tongue firmly in cheek. "If you can, make sure it's beautiful on the day of your performance." 
Staff and cast will arrive 15 minutes prior to the performance, and will require at least two free parking spaces. 
For more information, contact the Open Book Theatre Company at 734-288-7753 or go to openbooktheatrecompany.net.