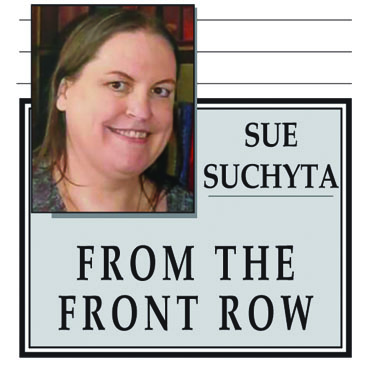 Travel back in time to the 1980s with the teen Guildlings to discover – or rediscover – the music of the decade with "Rock of Ages" July 13 to 16 at the Players Guild of Dearborn.
When one of the last of the heavy metal venues on Sunset Boulevard faces demolition for a commercial strip mall, musicians and music lovers fight to save the nightclub before it's too late. Add some romance and memorable rock anthems and the result is musical magic.
The show features the music of Styx, Journey, Bon Jovi, Whitesnake and other bands from the era.
Director Scout Greimel, herself a former Guildling, said she enjoys working with the talented young actors and tech crew members.
"They bring so many unique ideas and perspectives to the process of creating a show," she said. "I love to play a part in cultivating that and encouraging them."
Greimel said it can be challenging to create a balance between devoting time to rehearsal and giving actors an opportunity to provide input.
"Being a Guildling introduced me to theatre and shaped who I am as a person," she said. "It gives me a deeper appreciation and insight into how the kids are being affected by my direction and interactions with them."
Greimel said "Rock of Ages" follows the stories of people pursuing their passions on the Sunset Strip.
"From a young wannabe rocker to a small-town girl finding her way in the big city, there's a character that can resonate with everyone," she said. "'Rock of Ages' is a show about following your dreams, wherever they take you."
Greimel said she hopes audiences leave with a post-concert high from a bunch of Gen Z kids who worked hard to rock the '80s score.
"Even as someone who wasn't alive during the '80s, I find myself singing all of the songs during the day," she said. "This show is pure contagious fun and the characters are so over the top that you can't help but root for them."
Maeve O'Connell plays German developer Hilda Klinemann, one of the over-the-top characters, a feisty anti-hero.
"One of the hardest parts about being a villain is having to treat your cast mates like dirt," she said. "Another is trying to do the German accent properly without laughing, so it's always a battle."
O'Connell said attendees will likely be familiar with many of the songs in the show.
"I want the audience to hear 'Don't Stop Believing' and immediately think back to this show," she said. "I want to impact the way the '80s are viewed by Gen Z as a rocking time full of fun and good vibes."
Matt Hermen, who plays her son, Fritz Klinemann, said his character is also over-the-top.
"It's one of the least serious roles I've ever had to play, and the romantic aspect of the character is not something I have had to portray before in a character," he said.
Aurora Fischer, who plays ingenue Sherrie Christian, said she shares many of her character's personality traits, so her biggest challenge has been differentiating between what she and what her character would do.
"It's a bit hard to not act myself sometimes, but I think I've got it down," she said. "I've enjoyed blocking the scenes and seeing my character come together in them."
Fischer hopes audiences enjoy the dancing and vocal talent on the stage.
"Working hard for something really pays off," she said. "The entire cast is extremely talented and we've all worked so hard to put this show on. The music in the show is incredible."
Dashiel Greimel, who plays nightclub owner Dennis Dupree, said his role is unlike any he's played in the past.
"It has been fun to formulate his personality and come up with ways he can be interesting on stage," he said. "The biggest struggle for me has been determining what kind of behavior makes my character entertaining to watch."
Greimel said that, in addition to the songs from the '80s, comedy is an important part of the show.
"This is a very fun show that does not take itself too seriously," he said. "It's a jukebox musical with well-known '80s rock music, and I guarantee you will recognize the songs in it."
Others in the cast include Jeffrey Prueitt as Lonny Barnett, Jack Durant as Drew Boley, Dominic Greimel as Stacee Jaxx, Selah Brace as Justice Charlier and Michael Vena as Ja'Keith Gill.
Also, Dylan Charles as Sherrie's father, Gioia Lerini as Sherrie's mother, Joseph Rea as the mayor, Calum Carscadden as Joey Primo, Madelyn Luckey as Anita Bath and Allysha Potts as Constance Sack.
The waitresses are played by Kennedy Hill, Leah Katers and Jillian Oleski.
The ensemble includes Megan Drabczyk, Olivia Draus, Melanie Duff, Steve Durant, Moogie Fawaz, Ryan Furchi, Natalie Nikolajevs, Alana Nowlan, Hannah Roach, Noah Trapp and Kate Varitek.
Katers and Nikolajevs also serve as dance captains.
The show runs 7:30 p.m. July 13 to 15 and 2:30 p.m. July 16 at the Players Guild of Dearborn, 21730 Madison Street in Dearborn.
Tickets are $15 and are available online playersguildofdearborn.org/rockofages and at the door.