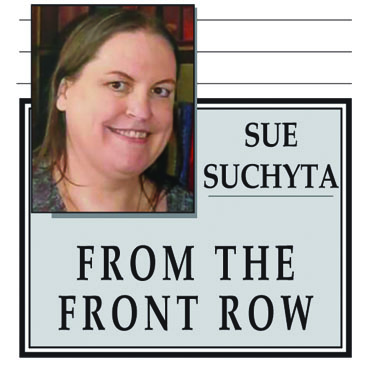 Visit Bikini Bottom with the Guildlings as they present the "Spongebob Musical — Youth Edition" Aug. 3 to 6 at the Players Guild of Dearborn. 
When a volcano may erupt and destroy Bikini Bottom, SpongeBob and his colorful friends must come together to save their undersea world, using the power of optimism and friendship to defy the odds. 
The show is directed by Nathan Vasquez, with assistant direction by Courtney Markham, music direction by Bree Rafferty and choreography by Kayla Coldren. 
Vasquez said he has been a fan of "SpongeBob" since the show premiered in 1999 on Nickelodeon. Since he is also a fan of musical theater, when he heard that the Guild was producing the musical he jumped at the chance to direct the show. 
"The best thing about directing this show is coming up with creative ways to bring this show to life on stage through imaginative costumes, colorful sets and a large assortment of fun props for the cast to use throughout the show," he said. "This show requires many specific things to happen throughout and this can present itself as a challenge, especially when working with young actors. Luckily, my cast has handled everything we throw at them like pros."
Vasquez said the musical has a storyline unlike any of the television episodes. 
"It's about community and how we should work together in times of crisis to better understand ourselves and those around us," he said. 
Vasquez said "SpongeBob" is not a typical musical. 
"You are going to have a blast from the moment the show begins until you leave the theater," he said. "There are plenty of catchy songs and hilarious moments that will bring a smile to anyone's face."
The musical production was conceived by Tina Landau, and features original songs by Yolanda Adams, Steven Tyler and Joe Perry of Aerosmith, Sara Bareilles, Jonathan Coulton, Alex Ebert of Edward Sharpe and the Magnetic Zeros, The Flaming Lips, Lady A, Cyndi Lauper, John Legend, Panic! At the Disco, Plain White T's, They Might Be Giants and T.I., and songs by David Bowie, Tom Kenny and Andy Paley, with additional lyrics by Jonathan Coulton and additional music by Tom Kitt. 
Vasquez said the list of musical artists alone is impressive. 
"Even people who aren't big "SpongeBob" fans will be pleasantly surprised with how awesome this show truly is," he said. 
Sofia Castrillon-Ibarra, who plays SpongeBob, said she enjoys transforming herself into SpongeBob's optimistic, outgoing and friendly personality on stage.
"The most challenging aspect of developing my character is keeping the SpongeBob energy throughout the entire show, because the character goes through different emotions, feelings and moods," she said. "It is a bit challenging to go from happy to sad and keep the energy up, but it is all about projecting, having fun and connecting with the audience."
Castrillon-Ibarra said the cast will wow audiences with their performance and the show's message.  
"We as community need to work together, support each other and believe in one another," she said. 
Steven Gullen-Peets, who plays Mr. Krabs, said he has enjoyed working on his character voice and laugh, as well as learning the show's fun songs. 
"Expressing the fact that Mr. Krabs is quite selfish only by the way I say my lines is not easy by any means," he said. "Also, wearing the oven mitts is very hot."
Gullen-Peets said it is fun to watch and listen to "SpongeBob."  
"It has a lot of fun music and variety in music, so there is something for everybody," he said. "And I think that the main takeaway from the show is that even in the darkest moments communities need to stick together." 
Roland Toole said he has had fun developing the role of Patrick.
"Patrick, himself, is just a blast to portray," he said. "Plus, I get to be dumb on stage."
Toole said the storyline is hilarious and the songs are so fun to sing, his family is singing them at home. 
"I expect us kids to absolutely wow the audiences," he said. "There are also lots of quotable moments in this show, as well as all of the goofy references to a television show that a lot of people grew up watching."
Olivia Rossow, who plays Sandy Cheeks, said she has had fun developing her character's southern accent. 
"It's the first role where I've need to keep a southern accent, and it's extremely fun," she said. "Remembering all of my super scientific lines is the most difficult, but Sandy's lines show how smart and science-y she is."
Rossow said she hopes audiences enjoy watching the show as much as she enjoys performing in it. 
"SpongeBob is an amazing musical about friendship and teamwork," she said. "It shows how everyone needs to work together to accomplish big things."
Also in the cast are Carly Serpetti as Squidward, Delaney Ryan as Pearl, Jake Phoenix Appleton as Plankton, Lila Ballout as Karen, Samantha Bush as the Mayor, Ricky Neer as Perch Perkins, Isla Dowhan as Mrs. Puff, Anthony Bazzi as Larry the Lobster, Jonah Bauer as Old Man Jenkins and Monika Cochran as Gary. 
The three Electric Skates are played by Liz Downey, Holden Brace and Wade Ryan.  
Evelyn Wild, Natalie Attard and Zaynab Ballout are featured dancers. 
Rounding out the cast are ensemble members Jaden Liles, Cailey Gilliam, Miles Rafferty, Randolph Dowhan, Jordyn Perryman and Skylar Perryman. 
Tickets are $15 and are available at the door and online, at playersguildofdearborn.org/spongebobmusical.
Showtimes are 7:30 p.m. Aug. 3 to 5 and 2:30 p.m. Aug. 6 at the theater, 21730 Madison in Dearborn.