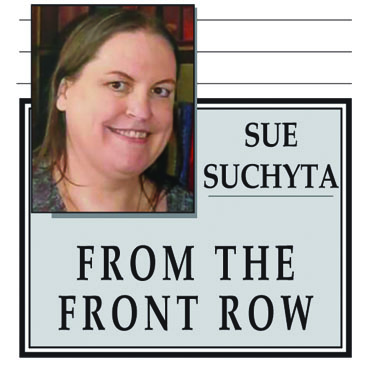 Local summer theater programs are showcasing rising young stars, including the Downriver Youth Performing Arts Center's production of "Catch Me If You Can" in Trenton and Crestwood High School's student and alumni production of "Matilda the Musical" in Dearborn Heights. 
DYPAC PRESENTS 'CATCH ME IF YOU CAN'
The Downriver Youth Performing Arts Center, which is celebrating its 25th anniversary, will perform the musical "Catch Me If You Can" Aug. 11 to 13 at the Trenton Village Theater.
The musical features a libretto by Terrence McNally and a theatrical score by Marc Shaiman and Scott Wittman. It tells the story of the ultimate young con man Frank Abagnale, Jr., popularized by Leonardo DiCaprio in the 2002 Spielberg film. 
Co-director Bailey Shaver said the musical is one of his favorites and he has wanted to direct it for a while. 
Rehearsing a summer show was challenging because they had to work around cast members' vacations and camp schedules, but they managed to make it work. 
"This is a cast of teens, so almost everyone is playing a character who is significantly older that they are except for Jacob Smith, who plays Frank Abagnale, Jr., who is 16 years old at the beginning of the story," he said. "It's special to see the events unfold in a true way, in that aspect." 
Shaver said the young cast has been eager to master their roles and polish their performances. 
"It's been great to see such talented young actors lean into their roles," he said. "They are so eager to learn and play, it's been a pleasure to work with them." 
Shaver said he hopes people will see the humanity and empathy that underscores the entire show. 
"This is a show about choices, and how making a bad choice doesn't mean that you are a bad person," he said. "Maybe the choice is about survival or proving something, or doing the best with what you have. What matters is how you take that lesson and make a better choice next time."
The cast also includes Noah Rodriguez as Frank Abagnale, Sr., Madison Ganzak as Paula Abagnale, Parker Watson as Carl Hanratty, Riley Barbee as Brenda Strong, Jasmine Walker as Carol Strong, Nathan Tarrow as Roger Strong, Sophia Valchine as FBI Agent Dollar, Isaac Clark as Branton, Ava Sturgill as Cheryl Ann and Sawyer Watson as Jack Barnes.
Ensemble members playing nurses and stewardesses include Ava Arnold, Alexandra Czata, Lily Digna, Violet Gates, Allison Hillard, Nina Lomas, Antonella Menna, Samantha Plunkett, Marisa Siakantaris and MacKenna Tocco. 
Ensemble members playing nurses include Lindsay Arntson, Emily Ascencio, Josephine Clayton, Harper Clemons, Josephine Clemons, Lyric Fountain, Paige Gilbert, Liv Harrison, Chloe McMahon, Bailey Pedenelli, Kira Saiti and Lola Valchine.
Others in the ensemble include Andrew Dmitruchina, Rocco Papalia and Hudson Veltman. 
Showtimes are 7 p.m. Aug. 11 and 12 and 2 p.m. Aug. 13 at the theater, 2446 West Jefferson Ave. in Trenton. Preferred tickets are $18, with other seating $16 for adults and $14 for students and seniors.  Tickets are available online at showtix4u.com/events/16162, with unclaimed will-call tickets available at the box office 15 minutes before curtain. 
CRESTWOOD H.S. STUDENTS AND ALUMNI PRESENT 'MATILDA THE MUSICAL'
Students and alumni of Crestwood High School in Dearborn Heights present Roald Dahl's "Matilda the Musical" Aug. 11 to 13 in the high school auditorium. 
"Matilda" is the story of a brilliant young girl with the gift of telekinesis who doesn't fit in with her own family yet overcomes adversity to find happiness and the life she seeks. 
Director Cayla Kolbusz said she's wanted to produce "Matilda" for quite some time, but the need for young actors makes it difficult to do with her high school students during the school year, whereas the summer time slot allows her to assemble of cast of children, teens and alumni adults. 
"I get to see so many of my students from previous years, how they've grown and what they have accomplished," she said. 
Kolbusz said the show also includes aerial silks and swings to add another level of magic to the production. 
"This show is beautifully written and Tim Minchen's music is magical," she said. "I love the themes and lessons of the show, and I am excited to share those with an audience." 
Assistant director Graham Dallas said he has enjoyed working with different generations of Crestwood thespians. 
"This show calls for a squad of talented young actors, and we were fortunate to find just that," he said. "We can't wait to showcase what we've put together." 
Maysa Abouzenni, who plays Matilda, said it has been challenging to find the right balance of smart and mature for a character who is still a child. 
"You have to find the balance," she said. "Matilda has a difficult range of emotions and  although she hides them deep down, they still build up." 
Adam El-Zein, who plays Trunchbull, said the show tells an amazing story in a creative way. 
"No matter how small you are, you can make a big impact," he said. 
Alumnus El-Zein said Trunchbull is unlike any character he's ever played before. 
"The character has been an absolute blast to go on this journey with," he said. "The lines she spouts are absolutely ridiculous, and I have to put on an insane amount of padding, which affects the way I can move." 
El-Zein said "Matilda" uses a child's imagination to tell a story onstage. 
"It's a great show to be a part of, and there's never a dull moment," he said. "It's like nothing you've ever seen." 
Alumna Lynsey Zundel, who plays Miss Honey, said the show's songs as well as the dance numbers are appealing to both children and adults. 
"'Matilda' is a show made for kids and adults alike, celebrating joy, friendship, rebellion and love," she said. "I hope they leave humming some of the insanely catchy songs we have in the show."
Alumnus Josh Hornkohl, who plays Mr. Wormwood, Matilda's crooked, egocentric, used car salesman father, said his character is constantly bantering with Matilda, who pulls off some very effective and horrible pranks against him. 
"It's fun to develop a character who seldom represents who you are and to convince the audience throughout the show," he said. "Additionally, I get to showcase a tribute song to the 'greatest invention of mankind,' the television." 
Others in the cast include Ali Boussi as Bruce, Lily Farley as Lavender, Mariam Houssami as Mrs. Wormwood, Damien Deluca as Michael Wormwood, Khalia Mims as Mrs. Phelps and Graham Dallas as the Escapologist. 
Also in the cast are Mahdi Osseili as a doctor, Mina Haidi as an acrobat, Harry Krafchak as a children's entertainer, Mohamad Mohammad as Rudolpho, Alina Hazime as the cook, Dave Havenstein and Sean Mason as Sergei, Carl Littlejohn as the mechanic and Chris Wright, Jason Anderson and Connor Tomsett as the henchmen.
The junior ensemble includes Aleena Bazzi as Amanda, James Toppa as Nigel S., Liam McClellan as Nigel L., Indy Havenstein as Eric, Mika LeBlanc as Alice, Sophia Beydoun as Hortensia, Emerson Havenstein as Tommy, Alayna Khanafer as Princess and Ani Havenstein as Betsy. 
The big kids' ensemble includes Harry Krafchak as the scary big kid, as well as Traeh Adkins Wingo, Larisa Aluculesei, Hailey Cook, Graham Dallas, Damien Deluca, Amanda Edwards, Lara Elhajj, Nadia Gellani, Kelsey Genga, Mina Haidi, Alina Hazime, Salwa Ibrahim, Khalia Mims, Mohamad Mohammad, Hana Nasser, Mahdi Osseili, Madison Porter, Julianna Rahal, Savannah Rayyan, Chris Wright and Megan Zundel. 
Ensemble members playing parents include Mohamad Mohammad and Nadia Gellani, Carl Littlejohn and Kelsey Genga, Graham Dallas and Amanda Edwards, Damien Deluca and Lara Elhajj, and Jason Anderson and Khalia Mims. 
Showtimes are 7 p.m. Aug. 11 and 12 and 3 p.m. Aug. 13 at the high school auditorium, 1501 N. Beech Daly in Dearborn Heights. 
VIP tickets, which include popcorn and a beverage, are $20 for adults and $18 for students. General reserved tickets are $15 for adults and $13 for students, and are available online at onthestage.tickets/crestwood-high-theatre.