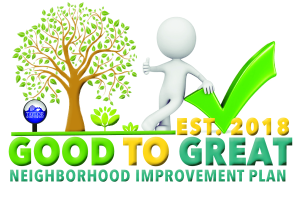 TAYLOR — The city's Good to Great Neighborhood Improvement Program is moving into its newest neighborhoods:
• Area 28 (Telegraph, Goddard, Westlake and Wick).
• Area 29 (Wick, Inkster, Goddard and Holland).
• Area 30 (Goddard, Inkster, Northline, Beech Daly and Cape Cod).
Teams have already starting working in these areas. Letters went out to residents this week.
Good to Great focuses on making enhancements such as general beautification, park improvements, signage, tree trimming, utilities, roads, catch basins, neighborhood businesses, LED lighting, blight removal, sewer maintenance and even public safety.
As part of this program, the Police Department will host meet-and-greet sessions with residents. These gatherings will be held at the following dates, times and locations:
• Area 29: Haig and Princess at 5 p.m. Aug. 15.
• Area 30: Charter Oaks subdivision entrance at 5 p.m. Sept. 5.
• Area 28: Kensington Street at 5 p.m. Sept. 19.
Police like to get a better understanding of the safety concerns in specific areas. Stop by and chat with them.
G2G will offer free mulch for property enhancement. Free mulch is located in the following sites:
• Southwest corner of Melody and Telegraph (parking lot).
• Sylvia and Haig dead end.
Lastly the campaign offers a program for replacements or additions of trees in the easement (between sidewalk and street) of your property. These are easement-friendly trees and are offered at various discount prices. The program will install the trees in a bed of soft-edge mulch and provide a slow release watering bag per tree.
The goal is neighborhood improvement and compliance with local laws. During this effort the city welcomes comments and concerns. All electronic feedback can be directed to Good to Great Program Coordinator Sam DiCicco at [email protected]. Title emails "Good to Great Program, Area #28-29-30."