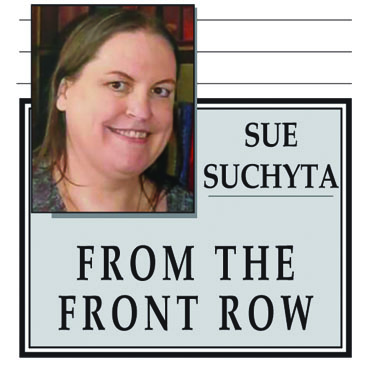 The Open Book Theatre Company launches its 10th season with award-winning playwright Heidi Schreck's "Grand Concourse" Sept. 15 to Oct. 8 at the playhouse, 1621 West Road in Trenton. 
When Shelley, a nun who runs a soup kitchen in the Bronx, begins to feel like her efforts have no meaning, she encounters Emma, a young, idealistic college drop-out who comes to volunteer and annoys Shelley to the breaking point. 
With a blend of humor and compassion, the show looks at faith, forgiveness and the pursuit of joy. 
Directed by Kez Settle, the show features Krista Schafer as Shelley, Allison Megroet as Emma, James Abbot as Oscar and Henry Ballesteros as Frog. 
Settle said the play emphasizes that we are all human, with our own flaws and struggles. 
"We all have our own demons that we struggle with and we are not alone, but how we choose to deal with them has an impact on others," she said. "This show really tackles the gray, the 'between the lines' of trying to survive from one day to another."
Settle said the play demonstrates the cause and effect of the assumptions we make about people. 
"Not everything is what it seems, and life isn't black and white," she said. "Can a good person do bad things, and does this make them bad, or are they still inherently good?
"Conversely, can a bad person do good, and does this make them a good person or are they still at their core bad?"
Settle poses what happens to a person's state of grace if they choose to not forgive someone. 
In the Christian tradition, one's state of grace means one is free from sin and is in God's favor.  
"This is a show that will leave people with great conversation for the way home," Settle said. "Audiences go on a journey with each of the characters. It is both funny and thought-provoking."
She said the design elements of the Bronx Soup Kitchen reinforce perception and reality, as well as good versus evil, with visual illusion evolving into the harsh light of reality. 
Settle said the playwright's characters are well-developed, as well as real and broken. 
"All of us have struggles, conflicts and a point of view that influences how we respond and carry ourselves in the world," she said. "We fall down and we get back up, but what if we push the envelope too far? Is it right to expect people to always forgive you just because you say you are sorry or make amends?"
Settle posed whether one can be at peace and be in a state of grace without forgiving someone. 
"Is forgiveness and grace something that should be given freely or is it something that should be hard won?" she asked. "Does it start with forgiving ourselves and giving ourselves grace?" 
Settle said the story has many elements to explore, which excites her as a director. 
"We are multi-faceted as humans, and nothing is black and white," she said. "Where do I take this story, what do I draw out, and how do I honor the playwright's intentions through my vision of the telling of the story?"
Settle said she is looking forward to sharing the story with audiences. 
"This play is timeless," she said. "The human struggle is constant and relatable on many levels, and this play brings out how various aspects drive our choices, behaviors and interactions with each other."
Settle urged people to see the show with a friend and to discuss it together afterwards.
"This one will stay with you for a while," she said.
Schafer, who plays Shelley, the nun who runs the soup kitchen, agreed that audiences will connect with the characters and the issues with which they struggle. 
"Each of the characters in this story goes on a journey, yet they are interconnected," she said. "What we do affects others for better or for worse."
Schafer said her character, who is both tough and big-hearted, is comfortable at her soup kitchen, but is questioning if it is where she should be. 
"These beautiful, multi-faceted, flawed characters are fun to play and watch," she said. "One of the things that has struck me during the rehearsal process is how each character reveals their own struggle with self-acceptance and love," she said. "They each get a moment where we see how they struggle to make peace with the world and their place in it, and how hard it can be sometimes to overcome it, with varying degrees of success."
Schafer said that learning about her character has provided her insight into herself. 
"I think that's true for the audience, too," she said. "They will see some of themselves in at least one of these characters, and the questions posed and wrestled with will be things they, too, wrestle with." 
Ballesteros, who plays Frog, said the story is about forgiving others as well as one's self. 
"Too often, our lives become so bogged down with everything we have going on, it becomes hard to be kind to ourselves and others," he said. "It becomes easy to get down on ourselves, when it can be just as easy to be kind."
Ballesteros said the play's themes are things people deal with throughout their everyday lives. 
"If it's not us who are dealing with it, we know someone who is," he said. "That's what's so powerful about theatre – it shows us aspects of our lives that we might not realize need attention." 
Showtimes for "Grand Concourse" are 8 p.m. Sept. 15, 16, 22, 23, 29 and 30, and Oct. 5 to 7, and 2 p.m. Sept. 17 and 24 and Oct. 1 and 8, with masks required for the Sept. 23 and 24 performances and optional for the other show dates. 
Tickets are $35 for opening night, with $30 general admission for other performances, and $25 senior and $15 student admission.  
For more information and to order online, go to OpenBookTheatreCompany.net.