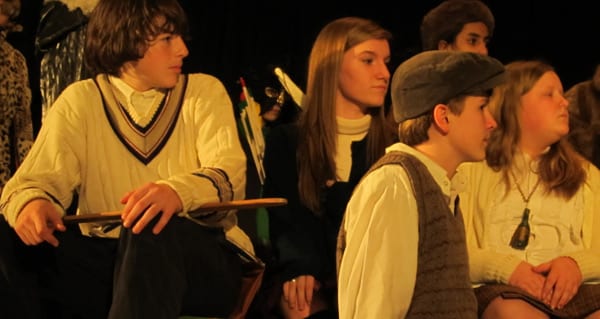 Photo by Sue Suchyta
Benjamin Harmon (left) as Peter and Shaelynn Beaton as Susan, both 14-year-old eighth graders from Dearborn, Austin Armstrong as Edmund, a 13-year-old seventh-grader from Riverview, and EmmaRose Folkema, as Lucy, a 14-year-old eighth-grader from Dearborn rehearse a scene March 28 for the Dearborn Christian School performance of "The Lion, The Witch and the Wardrobe." The show was performed March 30 in the O.L. Smith Middle School Auditorium in Dearborn.
By SUE SUCHYTA
Times-Herald Newspapers
DEARBORN – When Dearborn Christian School teacher Mary Folkema chose "The Lion, the Witch and the Wardrobe" as her students' spring play, she said its Easter season relevance hadn't occurred to her.
"To be perfectly honest, I didn't really think too much about the timing," she said. "But I did pick the story because of its relevance for us as Christians… at DCS, and because it is such a great story."
Despite being set in the imaginary land of Narnia with creatures from Pagan mythology, C.S. Lewis' classic children's story, "The Lion, the Witch and the Wardrobe," published in 1950 and later adapted to the stage by Joseph Robinette, is filled with Christian symbolism, with the lion Aslan paralleling Christ's sacrifice, resurrection and triumph over evil.
In the story, four British school children enter Narnia through an ordinary wardrobe and discover a world of talking animals and fantasy creatures who are ruled by an evil witch who has kept the land in an eternal winter.
In addition to Folkema's students gaining experience in public speaking and being in a play, she said she hopes they take away the message of the story.
"The message (is) of Christ's sacrifice for us and the hope that he gives us in this world, where evil is so prevalent," she said. "But we know that he will triumph, that the world is his."
Aslan, a powerful and magical lion, returns to the land of Narnia in "The Lion, The Witch and the Wardrobe" to defeat the evil White Witch.
Aslan dies to atone for Edmund's sins, which is similar to how the Bible describes Christ atoning for the sins of mankind.
Like Christ, Aslan is sacrificed and resurrected. Aslan then defeats the evil witch, returning spring and freedom to Narnia.
Clarissa Curren, a 14-year-old eighth grader from Allen Park who plays Aslan, said she hadn't given too much thought to her character's parallels to Christ, but did see the similarities.
"I do know that Jesus rose and died again, so (Aslan) rose and died again," Curren said. "And when Mr. Beaver (played by 13-year-old Sarah Masri) is talking about the prophecy and stuff she says (Aslan) is the king and son of the Great Emperor, and the Great Emperor would probably be God."
Curren said she thought that while the movie and play based on "The Lion, the Witch and the Wardrobe" might help people understand Christ's sacrifice, much of Christian symbolism is still difficult to comprehend.
"They might understand a little bit better but not too much, because even we as Christians don't understand it that well," Curren said. "We know that Jesus is the son of God, and that he has a lot of power and everything, but we don't understand the Trinity – how it's three-in-one and everything."
Just as Curren said she sees her character, Aslan, as a powerful redeemer, Rebecca Voorheis, a 13-year-old eighth grader from Dearborn, said she sees her character, the White Witch, as a powerful force of evil.
"I see her as this really controlling person and she has to always be in control," Voorheis said. "I kind of see her as like Satan. She's trying to destroy Aslan and she thinks that once she does she can rule and that nothing can stop her."
Voorheis added that when the inhabitants of Narnia see the White Witch's winter turning into spring they know something good is happening.
The winter changing into spring is mentioned in Narnia's prophecy, as is the children's arrival.
Siblings Lucy, Edmund, Peter and Susan, who enter Narnia through an earthly wardrobe portal, are seen by the Narnia creatures as "sons of Adam and daughters of Eve," another a Biblical reference tied to Narnia's prophecy.
Shaelynn Beaton, a 14-year-old eighth grader from Dearborn who plays Susan, said she sees parallels between Narnia inhabitants and people on Earth anxiously awaiting a savior, Aslan in the book and Christ for Christians, as promised in their own prophecies, as one who would redeem their worlds from evil.
"I see a lot of Jesus sacrificing himself (in Aslan), and people wanting the prophecy to happen, like him growing up and being the one that takes everyone's sins and everyone's suffering and just being willing to die," Beaton said. "The witch, she's kind of like Satan and all evil things; she doesn't understand that Jesus will come back and he (like Aslan) will make everything good again."
Beaton also saw the Christian symbolism in Narnia's seemingly eternal winter becoming spring.
"Evil has made everything dark and gloomy and for Narnia it seems like they would want spring to come," she said. "But it can't because it's always winter, so maybe since Jesus is coming it makes everything good again. So spring is like the good in everything."
Benjamin Harmon, a 14-year-old eighth grader from Dearborn who plays Peter, a son of Adam, said he sees the battle for Narnia as symbolic of the struggle of good versus evil.
"Everyone thinks, 'Oh, man, we're going down because we lost Aslan,' so when Aslan comes back it's like Jesus coming back and a huge renewal of hope and the whole bad guys just get wiped out," he said.
Austin Armstrong, a 13-year-old seventh grader from Wyandotte who plays Edmund, who Aslan redeems through his sacrifice, said Edmund redeems himself during the battle against the evil forces.
"He helps destroy the witch's wand, which really takes a toll because she can't use any of her magical abilities," he said. "He's kind of in the middle of a doubting Thomas and a disciple."
Armstrong said he recommends the show to others because it shows how good always overcomes evil, but always at a cost.
He also said the show fits well with the Easter season.
"It reminds people of the resurrection and how Jesus died and kind of brings a new spin on it," Armstrong said.
He added that the play also has meaning for people of other faiths.
"No matter what, evil can never win," Armstrong said. "Good will always be there to stop (evil) no matter what."
EmmaRose Folkema, a 14-year-old eighth grader from Dearborn who plays Lucy, said that the message of the play is one of hope.
"Even though it might seem like things are going really wrong and not the way you want them to, there's definitely always a brighter side to things," she said. "And it will end up being really good for everyone."