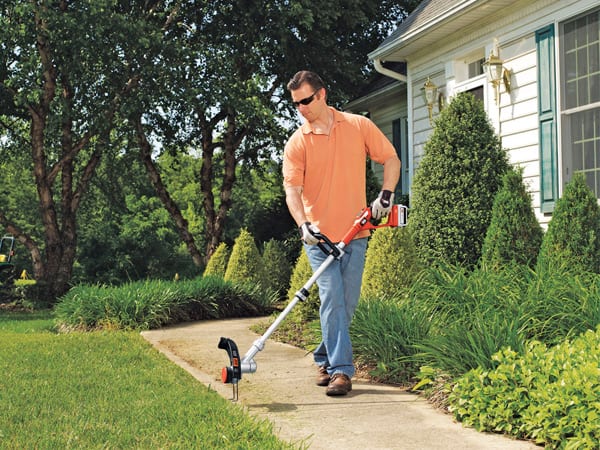 Photo courtesy of Family Features
Electric lawn care tools save you money compared to using gas-powered outdoor equipment.
(Family Features) — Everyone wants a lush, green lawn, and while many homeowners use green solutions for their home, they may forget to extend those practices beyond the brick and mortar. But using sustainable practices can lead to a green lawn your family can enjoy all season long.
According to the 2011 Environmental Lawn and Garden Survey from the National Gardening Association, 79 percent of U.S. households report that it's important to use environmentally friendly practices on lawns and landscapes – residential, municipal and commercial. But that same survey found that only 17 percent of respondents gave their own lawn care maintenance methods a "green" grade. This is down from 28 percent, compared to the 2008 survey.
Black & Decker and Clean Air® Lawn Care – the nation's leading full-service sustainable lawn care company – have teamed up to help spread the word about practical and affordable lawn care methods. Use these tips to help care for your lawn and garden this year – in more ways than one:
Mow tall – The correct mowing height is one of the most critical issues in keeping your lawn healthy and lush. Make sure your mower's blades are sharp and take no more than one-third the length of the grass off each time.
Go electric – Without the need for gas or oil to operate your outdoor equipment, you can tend to your lawn, garden and landscaping using electric products. Electric tools also save you money compared to using gas-powered outdoor equipment. Learn more about the convenience of electric products.
Water slowly, deeply and less frequently – Proper watering will allow your grass to grow deeper roots, making it less vulnerable to drought. Make sure to identify the type of grass in your yard and be aware of the recommended frequency of watering for that variety. Also, water early in the morning, so less moisture evaporates throughout the course of a hot day.
Be cautious when using pesticides – Remember, all pesticides are toxic to some degree and may harm people, wildlife and pets. Pesticides can also kill beneficial organisms, such as worms, disrupting the ecological balance in your yard.
Recycle your grass clippings – According to the Environmental Protection Agency, 27 percent of landfills were filled with grass clippings and yard waste in 2011. Help to eliminate this waste by composting. Learn about composting techniques at www.epa.gov.
For more lawn care tips from Black & Decker and Clean Air Lawn Care, go to http://blackanddecker.com/recharge and www.cleanairlawncare.com.