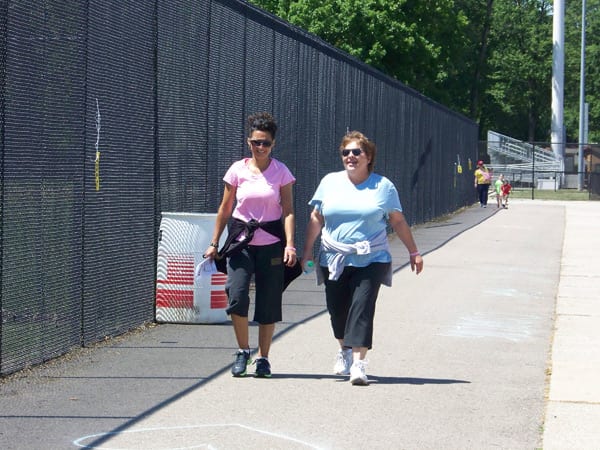 Photo by Sherri Kolade
Livonia residents Sue Cotter (left) and Sandie Robinson walk June 14 during the JKLP Walk-A-Thon at Edsel Ford High School.
By SHERRI KOLADE
Times-Herald Newspapers
DEARBORN — Dozens of students and community members giving their time and money for one cause last week — to help late Dearborn Public Schools Finance Director Robert Cipriano's legacy and family.
Edsel Ford High School hosted the JKLP Walk-A-Thon on June 14, where individuals donated $10 and walked around the campus to support the cause.
Proceeds will benefit the Robert Cipriano Memorial Cross Country Meet, The Cipriano Scholarship and the Cipriano family.
Cipriano, 52, of Farmington Hills, died April 16, allegedly at the hand of his son Tucker, 19, and his friend Mitchell Jordan Young 20, after the pair allegedly raided Cipriano's house looking for money.
JKLP stands for "Just Keep Loving People," a message Cipriano's son Tanner gave during his father's funeral on April 25. He said in his message that his father forgave and loved people and he asked everyone to do the same.
Edsel Ford Athletic Director Robert Picano said the walk-a-thon is Edsel Ford communities' effort to help raise money for the Bob Cipriano Memorial Fund.
"From the fund what the district would like to do through the Dearborn Education Foundation is provide some services in Bob's name for the district," Picano said.
These services include the Robert Cipriano Memorial Cross Country Meet, scheduled for Oct. 19. And the Robert Cipriano Memorial Scholarship, a $500 scholarship created by the school district that will be awarded to one high school senior from each of three Dearborn public high schools who has participated in either track, cross country or baseball. Scholarship qualifications will be determined by a district committee.
Picano said Robert Cipriano loved running, cross country, track and baseball, and physical fitness was an important part of Cipriano's life.
"He believed kids should be up and moving, kids should be playing," Picano said.
Edsel Ford Booster Club President Elect Marty Micallef helped set up a tent along the outside track of Edsel Ford High School, selling hot dogs, chips, water and candy for the walkers-proceeds will go to the Bob Cipriano Fund to help the family, he said.
"He was a very nice guy," Micallef said. "He would do anything in the world for you. He was always wanting to help out kids and I feel this is the least we could do is take a day off of work and help Bob's family out."
Joanne Forsthoefel, who walked the track, agreed.
"Mr. Cipriano believed in loving people and keeping it going," Forsthoefel said. "Their kids have been really instrumental in bringing that to attention… it really is a nice thing trying to raise funds for the family and keep this memorial going."
DPS is selling rose-colored bracelets in support of Cipriano's wife and son who are recovering from their injuries. The $5 bracelets have the words "Just Keep Loving People" inscribed on them. Bracelets are available online at www.dearbornefoundation.org.
(Sherri Kolade can be reached at [email protected])