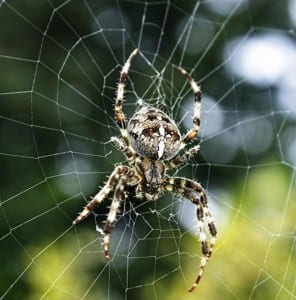 Photo by NewsUSA
Experts argue you're always within ten feet of a spider.

(NewsUSA) — Some researchers claim that every person is always within ten feet of a spider; other experts believe that is too conservative and that three feet is a more accurate assessment of our proximity to arachnids.
With 34,000 named species of spiders in the world (and tens of thousands of currently unnamed ones), our closeness to these eight-legged creatures should come as no surprise.
The National Pest Management Association sheds light on some of the most common home-invading spiders.
House spiders. Found worldwide, these spiders are the most often encountered indoors. They are a nuisance, more so because of their webs than the spiders themselves. These spiders are usually found in upper corners in rooms and under furniture, but homeowners can prevent them from entering by sealing cracks and using screens on windows and doors. NPMA recommends the use of a vacuum as an effective tool to remove adults, egg sacs and webs. Brooms are not as effective as adults often escape.
Brown recluse spiders. Found in the central Midwest and southward through Texas and Georgia, brown recluses often hide in clothing, shoes, storage areas and dark recesses. In order to avoid an unpleasant surprise and a painful bite, avoid keeping clothing on the floor and store clothes and shoes inside plastic containers to minimize hospitable environments for them.
Jumping spiders. Found throughout the U.S. and abroad, their common name comes from their jumping ability and habits they use to capture prey. Some colored species may cause concern when people mistake them for Black Widow spiders. These spiders will bite, but they are not considered dangerous. Seal cracks and make sure screens are intact to keep these pests at bay.
Cellar spiders. As their name implies, these pests are often found in dark and damp places and are more commonly called "daddy-long-legs" because of their long, thin legs. Lowering the humidity and moisture in basements and crawl spaces can discourage these spiders from taking up residence in your home. Cellar spiders do not pose a threat to humans. While they are commonly found in homes, they usually stay in one place. They are not known to bite.
While most spiders aren't dangerous, they can evoke a movie-worthy scream from many. If you believe you have a spider infestation, NPMA advises you to contact a pest professional who can identify the species and develop a control plan. For more information on preventing spiders from entering your home or to find a professional who can help control them, visit www.pestworld.org.