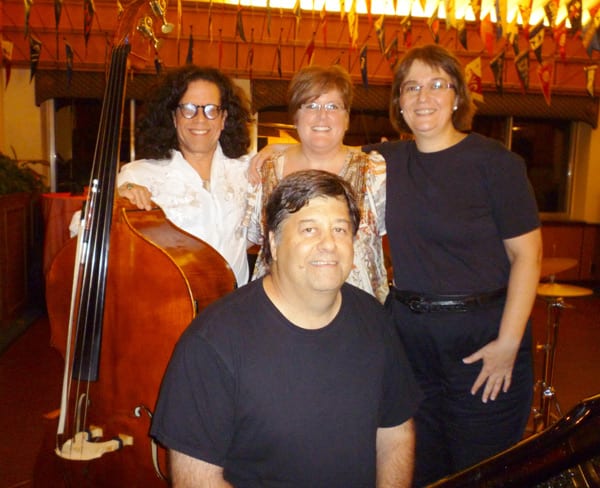 Photo by Evelyn Cairns
Debbie Nykiel (back row center), president of the Southern Great Lakes Symphony, introduces the symphony jazz trio to guests at the SGLS's "Summer Jazz" concert and pasta buffet Sept. 26 at the Grosse Ile Yacht Club. The musicians are Doug Scott (front row), Dale Anderson (back row left) and Pat Fisher. Nykiel announced plans for a symphony fundraiser Thursday titled Rock 'n' Ride, featuring a motorcycle rally and rock 'n' roll bands.
By Evelyn Cairns
A series of special events and displays will bring American history to life on the Detroit waterfront Tuesday through Sept. 10 when the U.S. Navy, Marine Corps and Coast Guard commemorate the War of 1812 battles between the British Navy and the Americans on the Great Lakes.
All of the events are free.
Navy war ships and an exact replica of the Brig Niagara will be docked near the GM Renaissance Center to welcome visitors for tours of the vessels.
The Niagara took part in the Battle of Lake Erie, during which the vessel's commander, Oliver Hazard Parry, regained control of Michigan and turned the tide of the war.
Kicking off the celebration will be a performance from 4 to 6 p.m. Sept. 4 by the U.S. Navy Great Lakes Show Band. The Niagara, the USS DeWert, USS Hurricane and USCGC Katmai Bay are slated to arrive between 4:30 and 6:30 p.m.
Military festivals are planned for 10 a.m. to 6 p.m. on Sept. 5 to 9, with Navy and Marine band performances slated each day. As part of the General Motors Corp. commemorative events at the Renaissance Center, No. 1 Billboard Hot Country performer Darryl Worley will appear in concert at 6 p. m.
In addition, science, technology, math, weapons and memorabilia displays are planned, as well as drill-team and search-and rescue demonstrations.
Ship departures will begin at noon Sept. 9 and continue through 1:30 p.m. Sept. 10.
In conjunction with the 1812 Bicentennial celebration, Greenfield Village is offering active military members with ID free admission to the village Thurs-day.
A complete schedule of events is available at www.1812detroit.com.
Puppet show set at college
"The Sleeping Beauty" will be presented by PuppetArt of the Detroit Puppet Theater at 2 p.m. Sept. 8 at the Heinz C. Prechter Educational and Performing Arts Center of Wayne County Community College District Downriver, 21000 Northline Road, Taylor.
Up to four children accompanied by the purchaser of an adult ticket for $8 will be admitted at no charge. After the show, artists of PuppetArt will conduct a puppet workshop.
For tickets or additional information, call the college box office at 734-374-3200 or go to www.wcccd.edu.
Photo exhibit deadline near
Entries for the second annual juried photography exhibit of the Downriver Council for the Arts will be accepted through Tuesday at the Wyandotte Arts Center, 81 Chestnut.
The exhibit, to be juried by well-know photographer Patti Izzo of Wyandotte, will offer awards of $100, for best of show; $50, first place, color photograph; $25, second place, color; $50, first place, black and white; and $25, second place, black and white.
Artists must be 18 or older, and all works must be original and available for sale. The photos can be digitally manipulated, however.
An opening reception is scheduled for 6 to 8 p.m. Thursday. The photographs will be on exhibit through Oct. 2.
For additional information, go to the DCA web-site, www.downriverarts.org.
Victorian tea slated for kids
Alice, the Mad Hatter and the Queen of Hearts will be among the guests at the Wyandotte Historical Society's annual Mad Hatter's Tea on Sept. 9 at the Wyandotte Museum, 2610 Biddle.
The event was inspired by Lewis Carroll's "Alice's Adventures in Wonderland." Refreshments will include freshly baked scones, cookies, tea sandwiches and lemonade. In addition, children's games will be played. Seatings will be at noon and 1:30 and 3 p.m.
Tickets are $10, adults, and $5, children 5 and younger. For reservations or more information, call 734-324-7284.