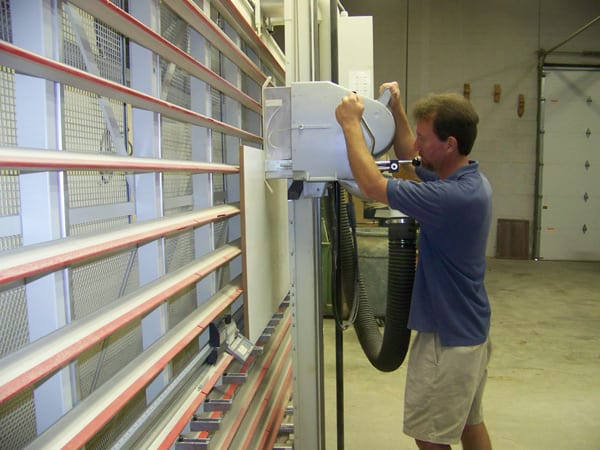 Photo by Sherri Kolade
Foreman Eric Williams works on a few final projects at the Dearborn store before he begins his job at the Birmingham store.
By SHERRI KOLADE
Times-Herald Newspapers
DEARBORN — After 43 years in Dearborn, De Giulio Industries, a manufacturer of custom kitchen cabinets, is moving to Birmingham.
Husband and wife John and Mary De Giulio co-founded the factory and showroom, at 15150 Century Drive, and John De Giulio, who plans to retire in a couple of months, said he is sad that his business has to move.
"There is a broader market in the area of Birmingham," De Giulio said. "But we will still be present in Dearborn."
A small office space will remain in Dearborn for customers who want to see various samples and patterns of products and who prefer to not make the drive to Birmingham.
The business will move to his son John Patrick De Giulio's current location, De Giulio Kitch-
en and Bath, 724 N. Old Woodward Ave.
The senior De Giulio said a few reasons behind the business move include difficulty obtaining permits and red tape in the city — situations that could have happened anywhere, he said.
"(Dearborn) has been good to us," De Giulio said. "But no matter what there will be issues with getting permits — and not major (issues) — but you have to relocate and move somewhere else in order to avoid problems."
De Giulio said some problems his business had with Dearborn were regulations that were not always clear, which resulted in fines and expensive fees to the city's Legal Department that the company paid.
"That caused problems to the contractor," De Giulio said. "That means loss of jobs and we've had problems staying afloat with some of the regulations."
De Giulio added that some of the problems were also based on unclear permits resulting in 25 violations at various times.
Shop foreman Eric Williams has worked at De Giulio Industries for the past 25 years and said he plans on working at the new location named De Giulio Industries Manufacturing.
"It is always sad when you have to move," Williams said. "I have a little bit longer commute. When you have worked for somewhere for 25 years you would hate to move."
De Giulio said while in Dearborn his customers were a great support system and his wife was always there for him.
"My wife is the one who helped me," De Giulio said. "If it wasn't for her I wouldn't be here."
(Sherri Kolade can be reached at [email protected].)