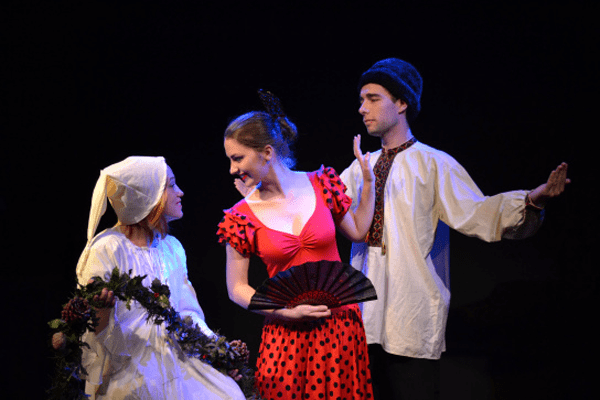 Photo by Stephanie Slusser
Matt Miazgowicz (right) of Dearborn performs in "'Twas the Night Before Christmas" at Wayne State University's undergraduate Bonstelle Theatre through Dec. 8 with Brittany Michael (left) and Taylor Morrow. There are no performances Thanksgiving weekend. For more information call 313-577-2960 or go to theatre.wayne.edu/ourshows.php.

By SUE SUCHYTA
The Downriver Actors Guild may soon close on a new building to house its non-profit community theater in Wyandotte. With the heirs of the building currently housing the Out of the Box Theatre actively seeking to sell the building, the group has been motivated to find a new venue.
DAG will present "Jingle Bell Jukebox," at Out of the Box Theatre, 1165 Ford Ave. in Wyandotte at 7:30 p.m. Dec. 6, 7, 13 and 14 and at 3 p.m. Dec. 8 and 14.
"Jingle Bell Jukebox" is a rock 'n' roll musical review that puts a fun twist on favorite holiday songs. The show's performers are 8 to 18 years old.
For more information call 313-303-5269 or go to www.downriveractorsguild.net.
"Alice in Wonderland Jr.," is tentatively set to run Feb. 14 to 23 with cast members ranging in age from age 9 to 18 years.
Planned fundraisers to help cover costs of the new location include a massage day Dec. 7 at Out of the Box, and Elvis impersonator Chris Solano at 7:30 p.m. Jan. 18 at Biddle Hall, 3239 Biddle in Wyandotte. An inter-active dinner theater, "The Awesome 80s," directed by Denny Connors, takes place at 6:30 p.m. March 14, 15, 21 and 22 at Biddle Hall.
"Jesus Christ Superstar," directed by Harold Jurkiewicz and John Sartor, will audition adult and teen cast members in early 2014 for a June 6 to 15 production run at the new theater location.
Jurkiewicz directed the show, which included Sartor in the cast, at the Players Guild of Dearborn in the mid-1980s as a summer fundraiser to sold out houses and strong critical acclaim.
DAG also announced plans to present Disney's "Peter Pan Jr." this summer as part of a theater program for youth 8 to 18 years old. Tentative performance dates are Aug. 15 to 17 and 22 to 24 at the new location.
SHAKESPEARE IN DETROIT ANNOUNCES ITS 2014 POP-UP PLAY SEASON
One of Detroit's new theater companies, Shakespeare in Detroit, announced fundraising plans and a slate of plays for its 2014 season.
The group plans to perform "Antony and Cleopatra," "A Midsummer Night's Dream" and "The Tempest" at different locations throughout Detroit to attract new and diverse audiences to "The Bard of Avon's" great works.
"Anthony and Cleopatra" opens at Recycle Here, 1331 Holden in Detroit in March, with costumes and set pieces utilizing materials recycled at the facility.
The group hopes to take "A Midsummer Night's Dream" to Grand Circus Park for outdoor performances in July, and "The Tempest" to Belle Isle in August.
"Detroit has one of the largest theater districts in the country, and rarely will you see an outdoor performance or Shakespeare play," founder and artistic director Samantha White said. "We're bringing Detroiters outside to explore areas of the city and experience traditional art."
White teaches the works of Shakespeare to youth in a local afterschool program and supports, "Shakespeare against Cancer," a local volunteer program.
"Being able to give back to Detroit is a priority for me," White said. "Creating art is my business, but more than anything, it is a way for me to add to the quality of life in the city that raised me."
For more information, go to www.ShakespeareinDetroit.com.
PGD BOARD CLOSER TO SELECTING 2014-15 SEASON
The Players Guild of Dearborn board is a step closer to approving its 2014-15 season, which script governor Sally Hart Goodman presented Nov. 19 to the board. Front-runners, which are not yet confirmed by the board, include Hitchcock's "The 39 Steps," Rodgers and Hammerstein's "South Pacific," Neil Simon's "Rumors," "To Kill A Mockingbird" (based on Harper Lee's Pulitzer prize-winning novel) and Monty Python's "Spamalot."
On Feb. 15 a musical cabaret fundraiser, "A Swell Night for Romance," takes place at Park Place Catering in Dearborn.
EDSEL FORD HIGH SCHOOL RESCHEDULES 'PETER PAN'
The drama department at Edsel Ford High School in Dearborn has rescheduled the musical "Peter Pan" from its original December date to April 3 to 5 in the school auditorium. Student cast members confirmed on social media that director Robert Doyle needed personal time to deal with family issues, and students say they were willing to wait until Doyle has time to bring the student show to its best potential.
DETROIT PUPPET THEATER FEATURES THREE HOLIDAY SHOWS
PuppetART presents three holiday shows at the Detroit Puppet Theater in December, with showings at 2 p.m. Dec. 1, 7 and 8 of "Helm," a traditional Yiddish story based on an I.B. Singer story also known as "Close the Window." The funny tale follows Mr. Schlemiel, a man who never does anything right.
"The Snow Queen" entertains at 2 p.m. Dec. 14 and 21, with 2 p.m. Dec. 27, 28 and 29 performances of "Oh, Anase."
PuppetART Center is at 25 E. Grand River, in Detroit's Theatre District. The center includes a 70-seat theater, a growing puppet museum and a workshop-friendly studio.
Founded in 1998 by a group of puppeteers and artists trained in the former Soviet Union, PuppetART offers eight annual productions, including one created for adult audiences, featuring hand, rod, shadow, floor tabletop and string or marionette puppets. All PuppetART events include a theater performance, museum tour and a studio workshop.
For more information call 313-961-7777 or go to www.puppetart.org.