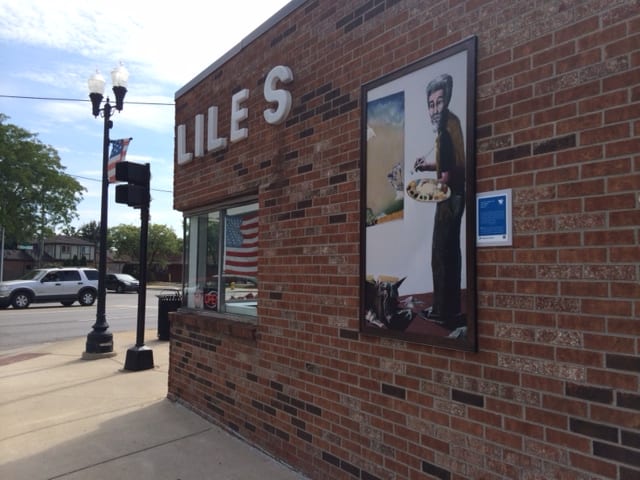 Photo courtesy of the Dearborn Community Fund
The Detroit Institute of Arts' "Portrait of a Collagist" is on the east wall of Lile's Ham Sandwich Shop, 13800 Michigan Ave. in Dearborn.
DEARBORN — Art connects Dearborn — on the east side, west side and in between.
Twenty-two pieces of public art are on display in various outdoor locations in the city. They include 12 reproductions from the Detroit Institute of Art Inside/Out program, on display through October, and 10 sculptures from the Midwest Sculpture Initiative that are on exhibit until April 2015.
A bus tour, scheduled from 1 to 4 p.m. Sept. 21, will provide an opportunity for those who want to take it all in on one trip.
Seating for the tour is limited and reservations are required. The cost per person is $10 which will benefit the Dearborn Community Fund's Art in Public Places initiative.
The tours, part of the Art in Public Places project, are presented by the East Dearborn Downtown Development Authority, West Dearborn Downtown Development Authority and the Dearborn Community Fund in partnership with the DIA.
The public also is encouraged to explore Dearborn's outdoor art gallery during self-guided tours. Detailed brochures for both the DIA Inside/Out and the sculpture initiative are available at the Ford Community & Performing Arts Center and upon request.
To make a bus tour reservation, request a brochure or receive more information about the Art in Public Places project, call the Dearborn Community Fund at 313-943-5478.
The DIA works on exhibit through the end of October include: "Seascape: Sunset" (at Ford Field, Cherry Hill entrance); "Eros Triumphant" (Starbucks Plaza); "Bank of the Oise at Auvers" (Bryant Library); "Flowers in a Glass Vase" (west Dearborn Pocket Park); "The Fruit Vendor" (Nigosian Oriental Rug Co. building); "Trappers' Return" (Henry Ford College); "Dancers in the Green Room" (University of Michigan-Dearborn); "Solitude" (Henry Ford Centennial Library); "Indian Summer" (Ford Community & Performing Arts Center); "Portrait of a Collagist" (Lile's Ham Sandwich Shop); "A Day in June" (Dearborn City Hall Park) and "Still Life: A Letter Rack" (Joe's Top Dog).
For more information about the Inside/Out project, go to http://www.dia.org/calendar/event.aspx?id=4456.
Through the Midwest Sculpture Initiative, the eight sculptures in Dearborn until April 2015 are at the Ford Community & Performing Arts Center, Dearborn City Hall, Oakwood Midwest Health Center (Schaefer and Michigan Avenue), Starbucks Plaza, Commandant's Quarters, and on the corner of Michigan Avenue and Military. Two permanent sculptures are in the west Dearborn Pocket Park and Dearborn City Hall Park.
The Midwest Sculpture Initiative is sponsored by the Dearborn Community Fund and the East and West Dearborn Downtown Development Authorities.